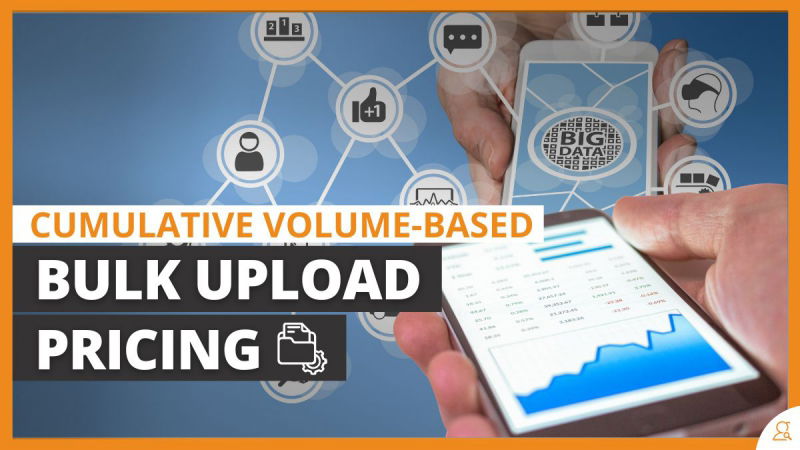 Nov03
What is Monthly Cumulative Volume-Based Pricing?
Searchbug has already offered volume-based pricing. This keeps costs down for us so that we can pass that savings on to you. Now, the deal gets even sweeter.
Monthly cumulative volume-based pricing for bulk uploads minimizes the cost per record for any bulk search within a given month. We'll tell you how it works.
The Old Way
If we take a look at the pricing calculator for bulk phone validation, for example, we can see that a line type standard search for 1,000 records costs about $10—$0.0100 per record. Pretty cool, right?
However, if you want to upload another 1,000 records a week or two later, the cost is the same: $10 at $0.0100 per record. That's still a pretty good deal in exchange for uploading your records in bulk. But we now offer a way to save you even more!
The New Way
Now, the pricing calculator still shows that a line type standard search for 1,000 records costs $10 at $0.0100 per record. However, if you upload, say, another 1,000 records later in the same month, you aren't charged $0.0100 per record but $0.0095, the rate for 2,000 records.
This is what is meant by "monthly cumulative" pricing. The rate you pay per record is based on the number of records of the same type you've uploaded in a given month. So keep in mind that this applies to records uploaded for the same type of search. You can find a complete list of bulk upload services here.
Other Payment Methods
Monthly cumulative volume-based pricing for bulk uploads is convenient, but what's the payment process for other types of services?
Search Tokens $T
Search Tokens ($T) are Searchbug's micropayment system. Since many individual, one-off searches cost only pennies, it makes more sense to use a micropayment system than to run a debit or credit card each time for such small charges. (We consider a charge under $5 a micropayment.)
Search Tokens are the equivalent of $0.01, so 100 $T equals one dollar. You can purchase a bank of $T which is stored in your Searchbug digital wallet, and use those to pay for your searches. Search Tokens are required for any instant online search or lookup. They cannot be used for bulk upload or API services. A complete list of services that require $T can be found here.
Search Tokens also save you money. When you purchase $T in bulk, you are awarded bonus tokens. For example, $25 gets you 2,500 $T. However, purchasing $25 at one time gets you 200 bonus tokens for a total of 2,700. That makes each token go farther, getting more for your money. As a new user, you also get 500 extra $T free with your purchase within the first 2 weeks of creating your account!
But aside from the discounts associated with $T, they save time. With a $T balance in your digital wallet, you don't have to enter your payment details for every order or wait for your payments to process.
Prepaid (PPD) Balance
A PrePaid (PPD) balance is slightly different from a $T balance. PPD is a recurring, set amount of funds you choose to have deposited in your account. These funds are debited from your PPD account after each successful API query.
Therefore, you only need a PPD balance if you plan to implement an API. Since APIs have tiered pricing with built in automatic volume-based discounts, PPD balances can't be discounted. However, as you make more API calls each month, the cost of each API call decreases, and API pricing resets each month.
You can add a PPD balance to your account for as little as $10. You can select any prepaid amount from $10 to $1,000. However, we suggest starting with $10 if you are just testing the system. If you don't use all of your funds after testing, the balance can be refunded upon request if you decide not to implement the API.
If you do decide to implement an API, you should increase your prepaid balance to match your anticipated volume to avoid multiple small charges in a short period. Otherwise, this could appear as suspicious activity to your bank and lead to declined purchases.
If there is a problem with your payment method or your PPD balance goes to $0.00, your API service will be interrupted. So, it's important to set your PPD amount to your anticipated needs and keep your credit card updated. You are also notified by email anytime a charge is attempted.
Prepaid balances never expire. The balance of unused funds can be credited back to your card if you stop using the service.
No Subscriptions, Contracts, or Monthly Fees
We are proud to say that at Searchbug, you only pay for the information you need. Therefore, you can take advantage of any of our services without committing to a subscription. We also don't require that you complete a contract to use our services. Nor do we charge monthly or annual fees to use our services.
We believe that you should only pay for your results. And we offer our micropayment system and PPD balance options to make your searches more efficient. Now, we've gone a step further to offer monthly cumulative volume-based pricing for bulk uploads.
Monthly Cumulative Volume-Based Pricing for Bulk Uploads
Monthly cumulative volume-based pricing for bulk uploads saves you money each month. Instead of paying the same per record rate for multiple uploads each month, you now pay less the more records you upload regardless of the number of uploads.
If you still have any questions about how payment works, feel free to contact us! A representative will help you answer your questions during normal business hours. In the meantime, check out our services. If you've never used $T before, your first results are free for select services!
https://www.searchbug.com/info/wp-content/uploads/2022/10/Cumulative.jpg
675
1200
Amber Iven
https://www.searchbug.com/info/wp-content/uploads/2019/12/SearchbugLogo500x197-400x108.png
Amber Iven
2022-11-03 07:57:57
2022-11-03 07:58:02
What is Monthly Cumulative Volume-Based Pricing?