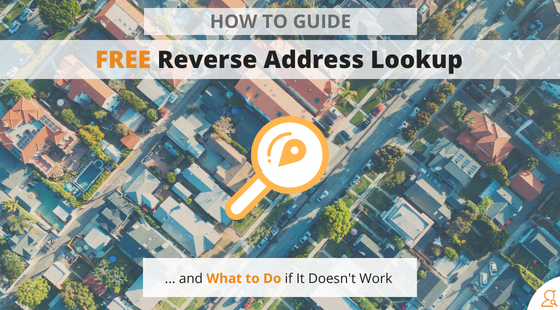 Aug13
How to Do a Free Reverse Address Lookup (and What to Do if It Doesn't Work) [2019 Update]
Reverse address lookup is a super useful tool for most businesses.
Having an address for a lead or business contact opens up a lot of possibilities for marketing and follow up conversations.
If you have addresses for your entire customer base, you can do even more advanced analytics and make your advertising more targeted.
So, knowing how to do a reverse address lookup is a good skill to have in your pocket. We'll show you how to do it in this post.
But, before we get into the meat of doing reverse address lookups, let's cover the basics.
What is Reverse Address Lookup?
Reverse address lookup is simply using a street address to find out the name and phone number of the person that lives or works there, or who owns the property at that address.
Doing a reverse address lookup will get different results based on what sort of address you're reversing.
Reverse IP address lookup is available, but it's a different service. We'll focus on physical addresses here…
How Accurate is Reverse Address Lookup?
Reverse address lookups are generally more accurate for single family residences or detached houses. If the address is a large apartment building or an office building with a lot of offices, the information can be spotty.
The trouble with apartments and office buildings is that people often leave out part of the address when they fill out official documents or public records.
This information can include:
The apartment number.
A fraction if there are two apartments in the same unit.
The office number or letter.
People sometimes do this out of convenience or because they don't want to be found. Either way, these incomplete addresses make their way into marketing company databases or get used in organizational algorithms.
Whether you're purchasing address lists, gathering them from customer registrations, scraping them from the internet, or using some other method of address collection, it's critical that you verify the addresses are valid.
Even if you paid for the addresses, that doesn't mean they're correct or current.
You don't want to waste time trying to find the name, phone number, or email address associated with a physical address that's invalid. The most accurate and free way to validate addresses is to use the USPS Zip Code Lookup.
You can only lookup one address at a time using the USPS website. But it's effective and it's free. If you want bulk address validation, you may have to pay a bit for it.
Once you know that an address is valid, you can do a reverse address lookup to find more information about that address.
How to Do a Reverse Address Lookup
How you go about doing a reverse address lookup comes down to how much time and money you're willing to invest in finding address information.
While it's possible to do a successful reverse address lookup for free, it could take you a significant chunk of time.
So reversing addresses yourself may not be a viable option if you've got a lot of addresses to lookup.
But if a free reverse address lookup makes sense for you, here's how to do it:
Check Search Engines
The first place to look is search engines. Simply type the address into Google, Bing, Yahoo! or any other search engine. This won't reliably turn up the information you need, but you might get lucky.
For private residences, the success rate using this method is rather low. But an internet search works quite well if the address belongs to a business. Businesses publicize their addresses so people can find them.
If the address appears to be a business, double check to verify the right business is listed. Sometimes, the first results aren't the actual business at that address, as you can see in the image below.
Also, the information you find may be outdated or inaccurate. Be careful using information you find this way.
Search social networking sites
A standard internet search sometimes turns up information from social networks. But the best way to search the massive repository of information on social networks is by using the search function in the social networking apps themselves.
If someone has their address openly displayed on their Facebook or LinkedIn page, it should turn up when you search for that address.
Also check the less popular networking sites like MySpace. Although MySpace is mostly a ghost town now, there may be some address information left on an abandoned MySpace page.
Searching review sites like Yelp and Google reviews is a good way to find out if the address your reversing belongs to a business. Most businesses have their address listed on these pages so they can get reviews.
Remember, that just like information from search engines, anything you find on social networks may be old or incorrect information. Be cautious with this data as well.
Try a free online address lookup
Free online address lookup tools tend to be more reliable than internet searches in terms of finding some information. However, free online address lookups can't guarantee the accuracy of the information they find.
Free address search tools rely mostly on information from the white pages and yellow pages. This information is publicly available. Most of it is used by police departments or published in libraries. That's why information from these sources isn't reliably found using a simple Google search.
However, as you may have guessed, free tools just don't have the support to provide quality data. For a few cents (or less), you can get much better data from a paid search tool. For example, our Reverse Address Lookup Tool provides dependable reverse address lookups for less than a penny apiece.
Note: the white pages and yellow pages are public information for free use. Never pay for an online address search that relies only on these sources. Searchbug sources information from multiple data providers to provide better information than you'd get from a yellow pages or white pages search.
You're less likely to come away from a free address lookup empty handed. But it's probably unwise to hire a process service or pay to have something delivered to an address you found using a free address lookup tool.
Use a premium records search
If the free reverse address lookup methods don't work for you, it may be time to invest a bit of money into your search.
A premium records search scours unpublished records like court proceeding records and marriage applications for information. All this information is publicly available but usually doesn't show up in an internet search or free reverse address lookup.
Premium records searches are a good way to find names, phone numbers, email addresses, and aliases connected with an address. Premium records searches are also relatively inexpensive. But the information may not be 100% accurate.
You can also do bulk premium records searches, also called batch appends, if you have a list of addresses to check. Usually, you can get quality information for about 15 cents per address.
You can simply upload a TXT, CSV, or Excel file with the addresses you need information for. Good services allow you to choose the information you need to gather.
It's not entirely free. But, a premium records search is a good compromise. It's a good option if you need to find decent information without investing a lot of time and money. Batch append services are usually reliable enough for businesses to use with purchased lists of leads or for completing customer profiles.
Note: some companies offer inexpensive non-recurring people search memberships. However, be wary of any people search company that wants you to sign up for a monthly subscription. You'll often end up paying without getting information.
A good reverse address lookup provider also won't charge you if they don't find any information.
Hire a professional
This is the best option if you:
Need the most accurate information possible.
Are willing to pay for it.
Hiring a private investigator is best when you need well-verified information. It's also the most expensive and takes the longest.
To find information, a private investigator will usually do what's called a utility search or a utility billing contact information search. The best way to get information about an address is to find out who pays the utility bills at that address.
This might point to a landlord. However, private investigators can often get tenant information with a bit more investigative work.
Finding information this way is usually very reliable. But, beware of any private investigator who doesn't offer at least a partial refund if they fail to find information for you.
All the same principles apply to doing a reverse address lookup for a PO box or a private or personal mailbox (PMB, like a UPS store box). You can try to find the information inexpensively or for free. But if you absolutely need verified information about the real address, it's best to pay for an assisted search.
And one last thing…
Is Reverse Address Lookup Legal?
In short, yes, using an address to find information is legal.
However, there may be protections for the way you use that information, depending on your business.
Protections provided by the government are fairly minimal in the United States. But there may be limitations or restrictions for using personal information in the terms of service for some businesses, such as Amazon sellers.
It may be perfectly legal to get information using a reverse address lookup. But check to be sure that you're not breaking any rules when you use the information you find.
So, that's it. If you're trying to find information based on an address, these are your options.
The reverse address lookup method you use depends on how vital it is that you get accurate information. Searching the web or playing with free online address lookup tools can be entertaining. And a premium records search is accurate enough for many commercial business uses.
When you really need dependable information, though, you'll probably have to invest in some professional services.
Leave a comment and let us know how you find address information, or check out our people finding tools if you need to do a reverse address lookup now.
https://www.searchbug.com/info/wp-content/uploads/2018/08/Reverse-Address-Lookup-Searchbug-e1534721471624.png
310
560
James Miller
https://www.searchbug.com/info/wp-content/uploads/2019/12/SearchbugLogo500x197-400x108.png
James Miller
2018-08-13 07:00:27
2022-10-25 15:10:11
How to Do a Free Reverse Address Lookup (and What to Do if It Doesn't Work) [2019 Update]