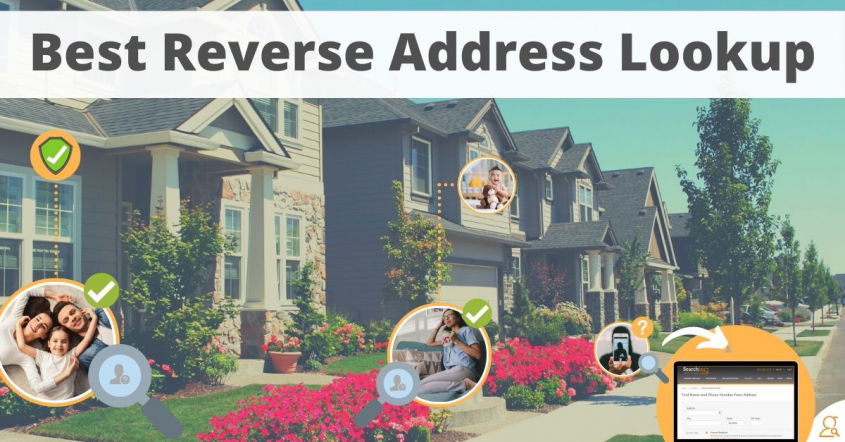 Mar08
Best Reverse Address Lookup: What to Look For in Yours
Searching "best reverse address lookup" online results in a number of different websites and tools all claiming to have what you're looking for. But the truth is that not all reverse address lookups are the same.
Some are free, some are paid. Some require subscriptions or memberships. Others offer access to databases that aren't regularly updated. In this article, we'll tell you what to look for in the best reverse address lookup and why it might be worth it to pay just a little to get the most accurate results.
What is a Reverse Address Lookup?
A reverse address lookup allows you to get the name of the resident of an address. All you need to do is enter the address and search. In most cases, you can also get the phone number and/or email address associated with the address.
This can be done for both residential and business addresses. For business addresses, you'll likely get the information of the property owner rather than resident information. The property owner may or may not be the person you are looking for, but with a phone number you can see if the property owner knows the person you are trying to find.
A reverse address lookup provides information for current residents as well as former residents. With just an address, you can get a list of former residents, their address history, current address, relatives, and associated phone numbers.
Use a reverse address lookup to get information about the resident and owner of a location.
Why Use Reverse Address Lookup?
A reverse address lookup can be useful in a few situations both personal and business.
Personal
First, if you are interested in buying a home or property, you might want to know the details of the location and who currently owns it or resides there. You can also get details about a new neighborhood such as nearby businesses, demographics, schools, and offender registry.
You might also want to vet new neighbors. If someone moves in next to you, you can search his or her address and get some background information with a name and phone number.
Business
Second, if you are in a position to hire a new employee, you can use a reverse address lookup to verify address information and identity. Are prospective employees who they say they are? Use a reverse address lookup for background screening and to check criminal history.
If you have the address for a lead or business contact, you can conduct a reverse address lookup to get an associated name and number so that you can get in contact with him or her. If you are in the business of estate planning or law, you might need information for an address involved in a legal investigation.
Or, you might need to conduct a reverse address lookup if you are trying to find someone who might be avoiding you. This is common in the instances of tracking down collections accounts.
Reverse address lookup is also used for skip tracing. Skip tracing is useful when you're trying to find someone who jumped a bond, a delinquent debtor, someone who is missing, or someone who is trying to hide. We'll talk more about this later.
So there are many reasons you might need to conduct a reverse address lookup. And you'll easily find many websites that offer the service. But are they all reliable? Which ones are scams? How can you get the most accurate information for the best price? Next, we'll tell you what to look for.
What to Look for in the Best Reverse Address Lookup
Accurate Results
More important than anything, you want to make sure the service you use provides accurate results. Don't waste your time and money on a service that can't guarantee up-to-date information. To gauge a service's accuracy, find out where the information comes from.
Most reverse address lookups house information from public records in their databases. But address information changes frequently. About 10% of Americans move every year, and the average American moves about 11 times in his or her lifetime. And those numbers are increasing all the time. Since Covid-19, temporary address changes have increased 27%.
That's a lot of changing data. To remain up-to-date, address databases should be updated at least once a year. Even still, these databases are only as accurate as the information consumers provide on applications and other documents.
Accurate address information gets tricky when it's an apartment or office building. Apartment and office letters or numbers can be left out either on accident or on purpose. This makes it more difficult to get contact information for someone at a specific apartment or office. Below we'll talk about more advanced options to get this information.
Public records include information you'd find listed in Whitepages or Yellowpages. It's used by police departments and published in libraries. A premium records search, however, checks information against unpublished records such as court proceeding records and marriage applications.
Next, we'll discuss the price differences associated with different services.
Price
Above we talked about the importance of updating records because of the rapid rate of data changes. It costs money to update and maintain an accurate database. Therefore, free services might not provide the most up-to-date information.
A service that charges for results, however, is a little more trustworthy because that charge is likely used to keep records updated. You should still check to see where the website gets its information, though.
Never pay for a service that houses public information that could be found in the Whitepages or Yellowpages. Do expect to pay for premium records searches as they are more in-depth and more reliable. And only pay if you get results.
Furthermore, beware of popular sites that provide minimum information upfront then entice you to pay for full records. They might also require you to set up an account or sign up for a membership or subscription in which cases you end up paying more for the little information you request.
In the next section, we'll use Searchbug's reverse address lookup as an example of a reliable lookup service.
Searchbug's Reverse Address Lookup
Searchbug is one of the best reverse address lookup services available. First of all, to guarantee accurate results, a lookup service should verify information against a variety of records. Searchbug uses information from public records, phone books, vital records, real estate records, magazine subscriptions, voter registration, and proprietary sources to make sure the information has been verified and is accurate.
Second, you only pay if results are generated from your search, it only costs a dollar or two, and you don't have to manage a membership or subscription. You only pay for what you need when you need it.
Searchbug offers a current resident search and address history search depending on the information you need. Results include (if available) names, phone numbers, email addresses of current and previous residents as well as dates, other known addresses, date of birth, and names of relatives.
If you can't get the information you need this way, there are a number of other address verification and people search options you can use. Check them out in the following section.
Other Options
Depending on the information you need, you may or may not be able to get it all from a reverse address lookup. Check out these other tools that can help you get more specific information and bulk process large quantities of data.
USPS Address Lookup and Verification
USPS Address Validation service verifies postal mailing addresses against USPS records ensuring your mail gets delivered quickly and accurately. It also doubles as a reliable USPS address lookup service. You can use it to locate hard to find landlord and owner information.
Additionally, the list building feature generates a list of valid USPS addresses from just a street name and zip code. Get a huge list for a few pennies. Then try the append tool (more info below) to add names and phone numbers to create your ultimate neighborhood leads list.
Data Append
Using batch data append, you can quickly and easily find property owner name and phone number from addresses, add phone numbers to your list of addresses, and update your database. This tool finds and adds names, numbers, addresses, and email addresses missing from your list of contacts.
XML API
Investigate, locate, and verify people in real time by integrating Searchbug capabilities to your own website, mobile app, intranet, or other internal system. There are API solutions for people trace, SSN verification, background checks, criminal records, and terrorist watchlists.
With quick and reliable Searchbug APIs, mobile app, website, and software developers can create useful applications for staffing agencies, human resource departments, collections, law firms, real estate, financial services, eCommerce, marketing, and insurance companies.
Hire an Investigator
Reverse P.O. Box Lookup – You can use this tool to locate the forwarding address or physical address associated with a P.O. Box number hosted at a US Post Office. Since you typically can't rent a P.O. Box without showing a photo ID and have an alternate mailing address associated with it, investigators can often find the actual address using

reverse P.O. Box lookup

.

Skip Trace – A

professional skip trace

is used to find information that can't be gathered from online resources. In-depth professional research is effective for finding someone who jumped a bond, a delinquent debtor, someone who is missing, or someone who is trying to hide. Skip trace services offered range from a 3-day basic assisted people search all the way to a month-long verified current address locator with or without employment search bundled in.

Utility Billing Contact Info – Private investigators can also conduct a

utility billing contact information search

. This entails searching for the billing contact information associated with a utility provider (gas, electric, cable, etc.) at the address you provide for your subject.
ZIP Code Lookup
The ZIP code lookup allows you to find location and area codes from a ZIP code or find the ZIP code of a city and state. With just the city and state, you can search for ZIP codes, get location map, applicable area codes, time zone, and current time.
By Radius – To find

ZIP codes in a radius

, enter any ZIP code and get the list of ZIP codes within your given radius.

By County – To find

ZIP codes by county

, select a state, then the county from a pre-generated list, and view ZIP codes for all cities in that county.
The Best Reverse Address Lookup
At the end of the day, the best reverse address lookup tool for you is going to depend on your needs. Look for the best price for the most accurate results. If you don't feel comfortable signing up for a membership or subscription, remember that Searchbug only charges per search and you only pay for results.
Free services might be the way to go if you're just looking for a long lost friend or relative. But don't use a free service to verify a list of contact information for leads or business contacts because the information might not be up-to-date. Bad data can have long-term effects on your business.
Additionally, be wary of paid services that only reference public records rather than verifying data against a variety of sources. You can typically find that information for free or get it from a free service.
If you'd like to give reverse address lookup a try, your first results are free! Check it out today.
Check it out today!
https://www.searchbug.com/info/wp-content/uploads/2021/03/Best-Reverse-Address-Lookup-e1616737068599.jpg
627
1200
Amber Iven
https://www.searchbug.com/info/wp-content/uploads/2019/12/SearchbugLogo500x197-400x108.png
Amber Iven
2021-03-08 08:00:40
2022-10-25 15:10:37
Best Reverse Address Lookup: What to Look For in Yours