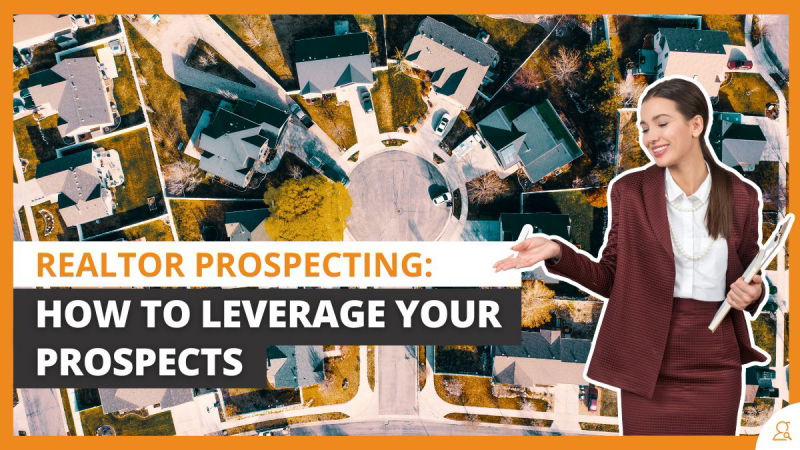 Mar13
Realtor Prospecting: How to Leverage Your Prospects
Realtor prospecting is an important part of the real estate business. You have to get prospects in order to get clients and build your real estate business. It can be challenging to know where to look, who to talk to, and how to succeed—especially if you are new to the industry.
However, realtor prospecting is no new venture. Many realtors have been right where you are. They have made mistakes, and they have found what works. Fortunately, that means there is a lot of information and resources available to you as you engage in your own realtor prospecting.
But prospecting is only the first step. What do you do once you have your prospects? How do you not only turn them into clients but turn them into repeat business? Here, we'll share some realtor prospecting tips as well as tools you can use to leverage your prospects, whether you are a new realtor or not.
What is Realtor Prospecting?
Real estate prospecting is the process of gathering contacts and turning them into leads in the hopes of building your clientele. This is typically done through warm or cold phone calls and email.
Cold calling and emailing is usually a dreaded process because of its impersonal nature. It is therefore less successful than warm calls and emails which are forms of outreach done once you've already built a relationship with a lead. It is usually much easier to start a conversation with a warm lead than with a cold one.
4 Best Realtor Prospecting Opportunities
Friends and Family
Obviously, the number one realtor prospecting opportunities are the people you already know. This could be friends, family, or colleagues from previous jobs and business ventures. People are much more likely to do business with someone they already know and trust. Plus, you get to bypass certain time-consuming tasks: introducing yourself, retaining leads through a conversation, and then convincing them to work with you.
Referrals
From friends, family, colleagues, and maybe even existing clients comes the next best realtor prospecting opportunity: referral. Referrals are even better prospecting opportunities because you already know they are in need of your services when they come to you. If someone seeks you out, you have a much better chance of convincing them you can help them.
Social Media
Arguably the next best realtor prospecting opportunity is social media. People cannot elicit your services if they don't know who you are or what you offer. Social media is a great way to expand your circle and advertise very cheaply if not for free.
Property Records
But if you really want to find real estate opportunities, you might have to start with the properties themselves. To find prospects that benefit from selling their houses, you'll need to target the right areas. MLS.com is a real estate database that provides information about average and projected home values.
But a reverse address search for property records offers much more data. With a sale history, assessed value, and delinquency info, you can find out how often people in a certain area sell their homes and more. Most importantly, you can get owner names to follow up on your research.
You can also use a municipal lien search to find reported bankruptcies, foreclosures, tax liens, etc. This is another good way to find prospects that need to sell their properties. For rent by owner (FRBO) listings are great opportunities as well because contacting these property owners early can put you ahead of the competition.
How to Leverage Your Prospects
Now that you know where to look for prospects, you need to know how to leverage the information you have. You might have someone's name but not their phone number. You might have a business card but no home address. So how can you properly research a property and contact the owner if you're missing vital information?
Reverse Address Lookup
Reverse address lookup is a helpful tool for getting contact information for a property. For example, you can get a name, phone number, and email address just by searching a particular address! And that's per owner or listed resident! So you could get multiple people's contact information just from searching one address.
This tool is particularly helpful if you frequently get business cards from prospects and those cards don't have a home address listed. For this search, you must have a house number. But you can use USPS address lookup to generate lists of addresses.
USPS Address Lookup
USPS address lookup allows you to build a list of prospecting addresses! Just by entering a street name and zip code, you can get a list of all addresses on that street. You can also use it to verify addresses. So if you think you've found a good lead, you can enter as much of the address that you have and the USPS address lookup will let you know if you've got a valid address.
Reverse Phone Lookup
Sometimes, you might get the phone number of a referral, but to really seal the deal, you'll want to know a little information about their property. Luckily, reverse phone lookup allows you to get an address from a lead that might only provide you with a name and number.
Obviously, it might be a bit challenging to get an address from someone you have just met for the first time. Now, all you need is a phone number! From just a phone number, you can get the most recent name and address associated with it. The report may even include an email address if you'd rather reach out that way.
Email Validator
Unfortunately, you could end up with email addresses that are fake, illegible, or incomplete. Rather than waste time drafting emails that are going to bounce, you can verify email addresses. Just enter the address, click verify, and you will know for sure whether or not the address is valid.
You can also use an email validator to check addresses that you guess. If you don't have a way to contact someone who you think is a good prospect, you can guess someone's business email address relatively easily. Then, use an email validator to see if you're right!
Phone Validator
Similarly, you can validate phone numbers. Not only do you want to know that a phone number is correct and active before you call it, you also want to know the line type. If you know that a phone number is a cell number, for example, you know you can text it. These days, text messages might be a more convenient way to contact prospects.
Conclusion
Realtor prospecting has never been easier. With all of the tools, resources, and opportunities available to you, realtor prospecting no longer has to be a draining task. Tools like reverse phone lookup and address lookup allow you to find prospective properties and sellers and personalize your outreach.
The more you know about your prospect, the better you will be able to help. Personalizing your outreach can increase your professionalism, improve your accuracy, and leverage your prospects. Try these and other real estate industry solutions today!
https://www.searchbug.com/info/wp-content/uploads/2023/03/SB-How-to-Leverage-Your-Prospects.jpg
675
1200
Amber Iven
https://www.searchbug.com/info/wp-content/uploads/2019/12/SearchbugLogo500x197-400x108.png
Amber Iven
2023-03-13 15:29:02
2023-03-13 15:29:07
Realtor Prospecting: How to Leverage Your Prospects