May21
What Happened to the First Online People Searches?
Finding people has been a popular online activity for decades. There have been a lot of companies which offered online people searches for finding various pieces of personal information over the internet.
Personal information databases specialized in everything from DNA histories to shipping addresses to death records. Each people finding service evolved throughout their lifetime, becoming more specialized for a better market fit.
In 2004, SHAPE magazine ran an article covering some of the popular online people searches at the time. Some of these services are still around. Some have dropped off.
We'll look back at some of these original online people finding services from SHAPE magazine. Check out how they've changed throughout their lifetime, and where they are today (if they're still providing information).
Let's start with one of the oldest people finding services that are still around.
The Original Online People Searches
Ancestry.com
Ancestry.com (2019)
Family histories have been one of the most popular uses of online people searches. Ancestry.com is one of the oldest family history websites. Not long ago, they've even moved into providing genealogical DNA tests.
Ancestry.com started as Infobases, a small business that offered Latter-Day Saints publications on floppy disks. Owners Paul Allen and Dan Taggart sold the floppy disks out of their cars. Between 1988 and 1995, Infobases progressed from floppy disks to CDs, and went online with Ancestry.com in 1996.
Ancestry.com (1996)
The site was one of the first to offer family histories through an online people search. Ancestry.com used digital technology from the Folio Corporation to collect and curate personal data for building family history reports.
In 1997, Western Standard Publishing purchases Ancestry Inc., but the original owners, Paul Allen and Dan Taggart, retained operational control of the site. Between 1997 and 1999 Allen and Taggart built one of the world's largest subscription-based genealogy database services.
In 1999, Ancestry Inc. sold off its catalog of print assets to Deseret Book. Ancestry Inc. then started MyFamily.com and FamilyHistory.com to focus on their online subscription business model.
Since 1999, Ancestry Inc. has been expanding its subscription service, opening new service centers in Provo, San Francisco, and Dublin.
In 2012, Ancestry Inc. purchased the photo digitization and sharing service, 1000Memories to supplement their family heritage service with family images dug from the 1000Memories database.
Ancestry.com (2012)
In November 2018, Ancestry.com reported possession of over 10 billion digitized records and serving over 3 million paying customers.
Ancestry.com is currently the largest people search service that focuses on DNA matching and family histories.
Bestpeoplesearch.com
BestPeopleSearch.com was founded in 2002 by Noah Wieder as a way to market private investigator services.
BestPeopleSearch.com (2002)
Users could order private investigator services through the site. Orders were fulfilled by private investigators who had partnered with BestPeopleSearch.com. The site streamlined the process of hiring a private investigator and took the marketing off private investigators' plates.
In 2003, Searchbug.com became an affiliate of BestPeopleSearch.com to improve traffic and revenue by supplementing Searchbug's services with a resource for customers who needed private investigator services.
However, a majority of BestPeopleSearch.com's business was in collections. In 2008, during the crash, collections revenue slowed down considerably.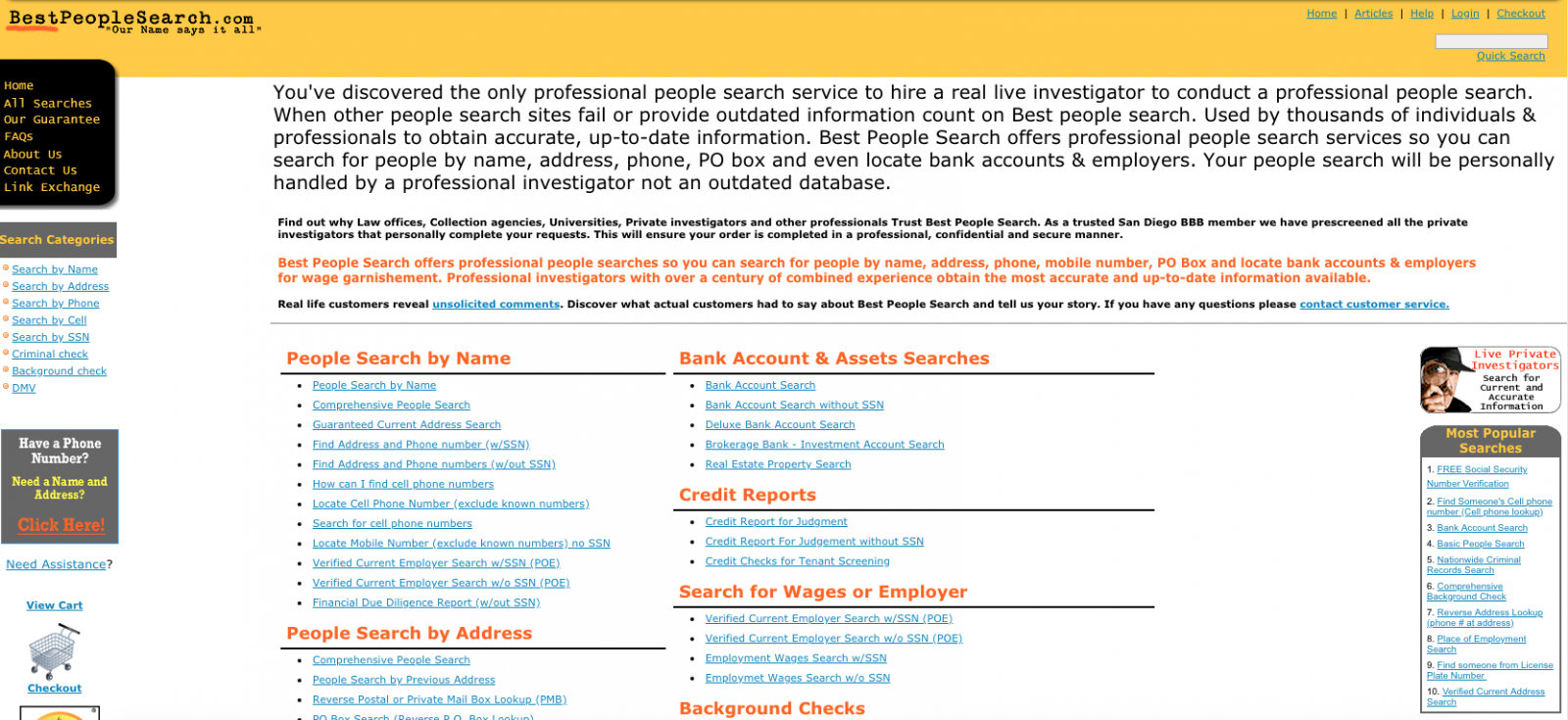 BestPeopleSearch.com (2008)
So, in 2010, Searchbug.com and BestPeopleSearch.com merged under the Searchbug banner to improve their business and provide better services. However, the services remained the same. More on Searchbug next.
BestPeopleSearch.com (2010)
Searchbug
We've added Searchbug in here, because BestPeopleSearch and Searchbug have become one. Searchbug is one of the longest standing online people search services. The company has been around longer than any of the other sites in this article.
Andre Polakoff founded Searchbug in 1995 as Search-It-All.com while he was completing his PhD at Rockefeller University.
Between 1995 and 1999 Andre worked to add search tools for finding people, businesses, jobs, health, and legal info, travel, sports, shopping, package tracking, and more. Andre's goal was to build a true one-stop-shop for information.
In 1999, Entrepreneur Magazine praised Search-It-All as the best online search tool for finding email addresses, phone numbers, and street addresses.
In 2000, Macworld heralded Search-It-All as the best all-in-one search site around.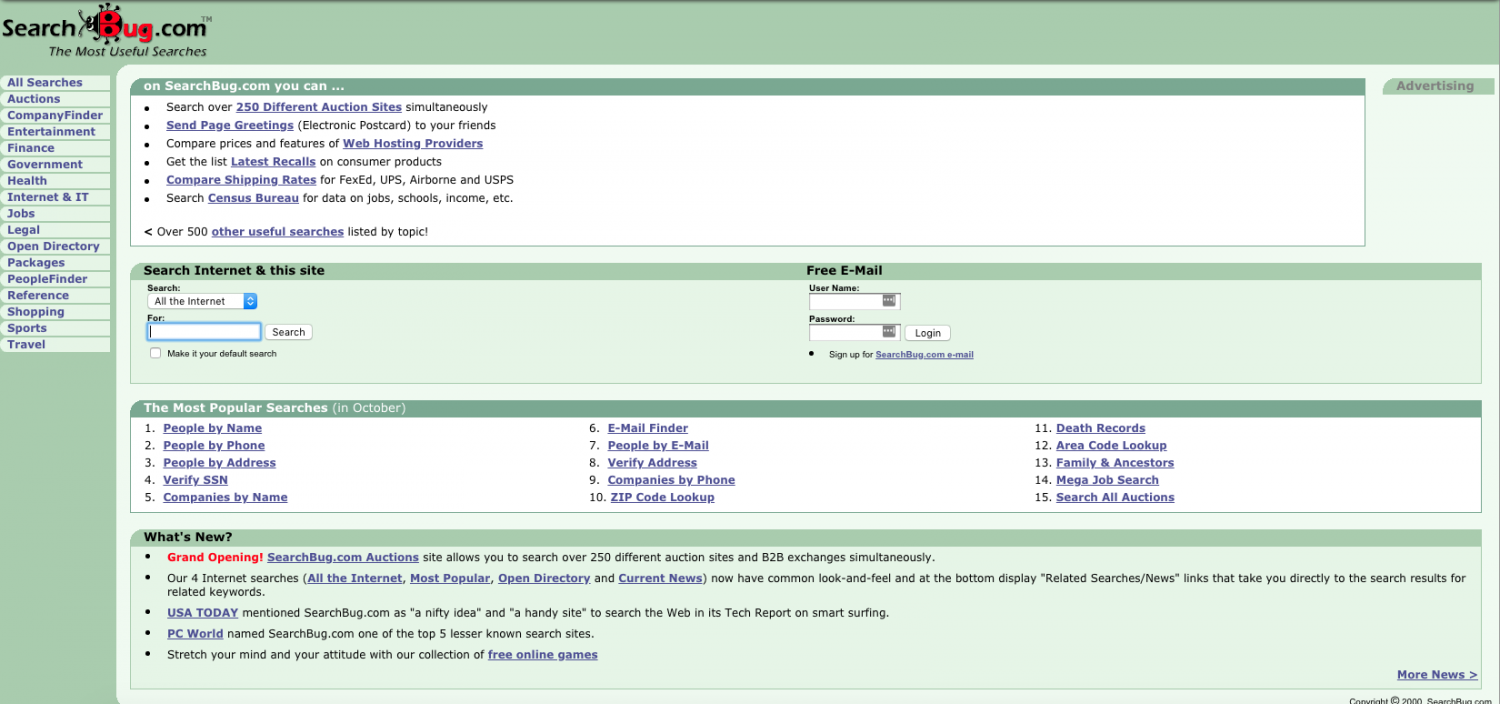 Searchbug.com (2000)
That same year, Andre renamed the site and founded Searchbug LLC. The new site operated as Searchbug.com.
Two years later, Searchbug partnered with Whitepages.com and InfoSpace to work as their content distributor for people and Yellow Pages data.
During 2003 and 2004, Searchbug changed directions a bit. The company became an affiliate of BestPeopleSearch.com, a site created by Noah Wieder that functioned as an online broker for private investigator services.
Simultaneously, Searchbug stopped offering search services that weren't related to people and business. The shopping, job search, package tracking, and other search services were dropped to hone in on providing personal information.
Searchbug.com (2004)
In 2004, Searchbug began establishing content reselling agreements. By 2005, Searchbug.com was receiving 500,000 unique monthly visitors. And by 2009, Searchbug had locked in content reseller agreements with Roommates.com, Reunion.com, PeopleFinders.com, InfoUSA, MelissaData, and SuperPages.com.
Searchbug continued developing their own services during these years as well. In 2006, Searchbug premiered its first verify phone batch services and their own API.
In 2010, Searchbug.com and BestPeopleSearch.com merged, providing all the services of both websites on the Searchbug.com domain.
Searchbug.com (2010)
The next year, Searchbug started offering membership subscriptions for public records searches and upgraded their self-service batch processing tools to provide better information at lower prices.
In 2012, the company offices were relocated to Moonlight Beach in Encinitas, California.
Two years later—in 2014—the company released its first batch append contact information services and API. After another three years of development, Searchbug launched fully automated batch processing and monitoring services. They also added a batch processing dashboard to improve the self-service aspect of the batch processing services.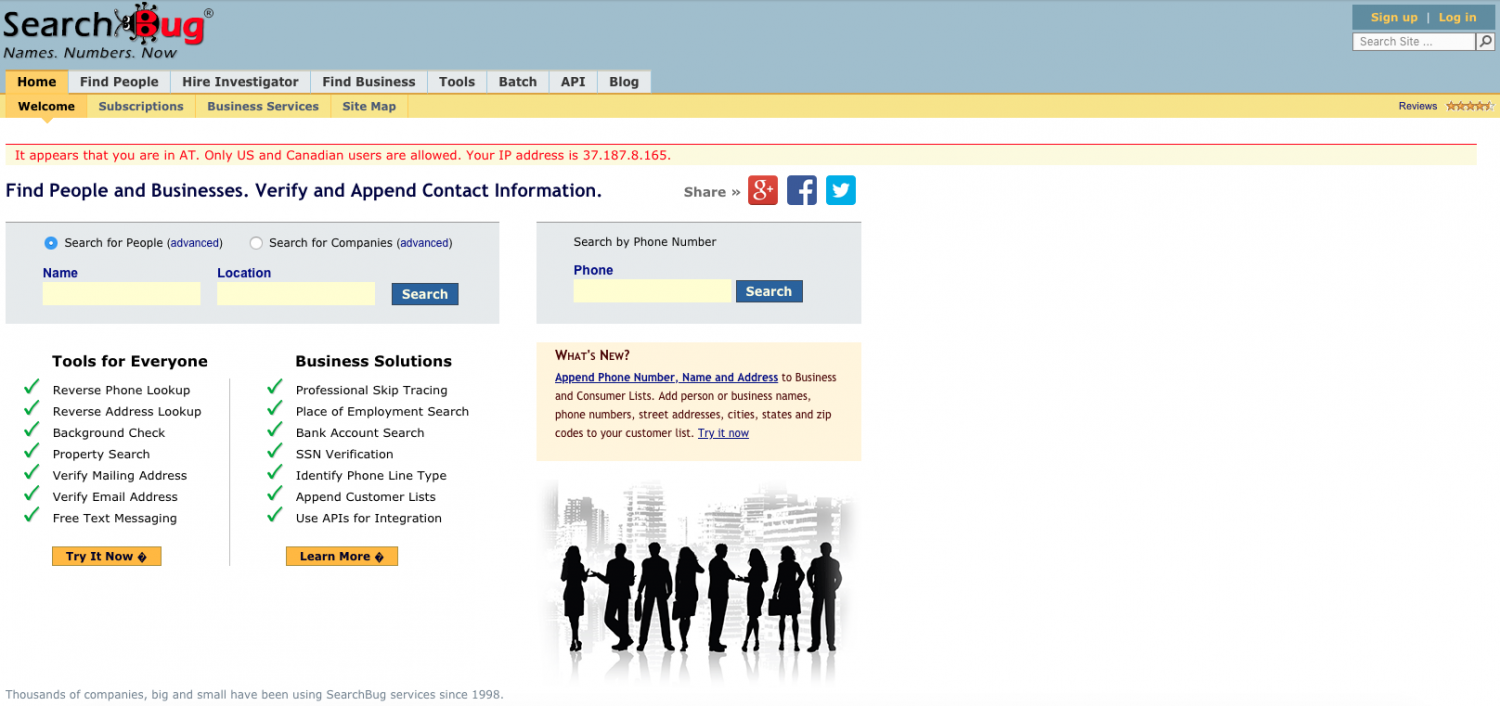 Searchbug.com (2014)
Today, Searchbug still offers individual people searches. However, the company has pivoted to focus on helping businesses improve their operational efficiency with accurate and dependable personal information.
Searchbug has big plans for its website in 2019. Stay tuned to see what's new!
Classmates.com
Classmates.com was founded in 1995 by Randy Conrads to help users find people who they had attended kindergarten, primary school, high school, college, or served in the military with.
Classmates.com (1995)
United Online acquired the company in 2004. By 2008, Classmates.com had over 50 million users, including 3.8 million paying subscribers. This placed Classmates.com at number three in unique monthly visitors among social networking sites.
Classmates.com (2008)
In 2010, the website pivoted "to increasingly focus on nostalgic content," according to CEO Mark Goldston. The Classmates.com website was redesigned and rebranded as Memory Lane. The overhauled platform focused on high school yearbooks, movie trailers, songs, and photos.
The goal was to attract older users. However, Memory Lane only lasted a year. The site reverted back to Classmates.com in 2011.
Classmates.com (2011)
In the following years, Classmates.com lost users to Facebook. Classmates.com tended to continuously charge subscribers small fees, which drove many users to Facebook's free-to-use platform.
Additionally, the site's people search capabilities weren't clearly superior to Facebook. Although, Classmates.com was connected to data providers through Intelius.
In 2017, Classmates.com reported serving over 70 million members. It was listed as the 10,143 most visited website.
Classmates.com (2017-Present)
Classmates.com is considered one of the first social networks. However, the site's payment model has prevented it from keeping pace with other social networks like Facebook and Instagram.
Reunion.com
MyLife.com (2019)
Reunion.com was founded in 2002 by Jeffrey Tinsley. The website also operated as MyLife.com and Wink.com. However, the company's primary online presence is MyLife.com.
The service gathered personal information from public records and other sources to generate a "MyLife Public Page" for each person. The company described the MyLife Public Pages as a "complete Wikipedia-like biography on every American."
MyLife.com had issues with the MyLife Public Pages because they publicly listed so much personal information such as age, home address, phone number, email address, employers, and much more, including a mini-biography. MyLife users were encouraged to rate each other, based on their MyLife Public Pages.
In 2007, MyLife claimed to have 225 million public pages, and that their databases held personal information about almost every individual in America who is over 18 years old.
MyLife.com also claimed to be the sixth most popular social networking site. Publicly, the website claimed over 28 million users. In 2009, ComScore found that the website had 18.2 million unique monthly users.
However, many said these numbers were inflated because people had to register with MyLife.com and provide a credit card or government issued photo ID to claim and edit their MyLife Public Page.
Additionally, the MyLife.com suffered through lawsuits in 2008, 2011, and 2018. The company paid out settlements for violating state consumer protection laws in Washington and California, violating anti-spam laws, and fraudulently charging customer credit cards.
In 2015, the Better Business Bureau revoked MyLife.com's accreditation for the repeated violations.
Currently, the website is still operational and offers free people searches, which require users to pay to see all the available information.
Whitepages.com
Whitepages.com was founded in 1997 by Alex Algard, who was a student at Stanford at the time. Initially, the website offered contact information using data licensed from American Business Information. The website produced revenue through ads.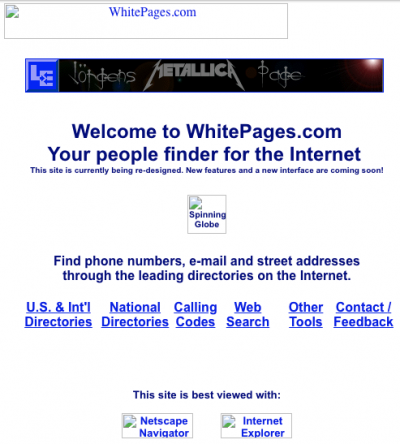 Whitepages.com (1997)
In 2004, the company received $45 million in investor funding and brokered contracts with Yellowpages and Superpages. Whitepages earned revenue for sending referral traffic to the two affiliate sites.
Whitepages.com (2004)
By 2007, the Whitepages database had grown to 180 million records. The site offered a "Look It Up" feature that people could use to search the database and find contact information.
Around the same time, Whitepages began getting criticized because people who clicked on ads and purchased information would get stuck in a perpetual loop of advertisements. This made it difficult for customers to access the information they paid for.
Whitepages.com (2007) Actual Screenshot. Some UI Issues Here.
As a result, the website underwent a redesign in 2009. In 2010, Alex Algard began restructuring the company to focus on business users and paid subscriptions. This reduced the company's reliance on ad revenue. By 2012, Whitepages had done away with ad revenue contracts.
Between 2011 and 2013, Whitepages released two people search apps and purchased a call-blocking app.
Whitepages.com (2013)
Currently, Whitepages primarily focuses on its mobile apps. But, people can still search for and purchase personal contact information through the Whitepages website. Most of the company's revenue is generated through subscriptions.
Whitepages.com (2019)
Ussearch.com
USSearch.com has been called the "Godfather of the public records space." The company was founded as People Connect Inc. in 1998 and went online as USSearch.com.
USSearch.com (2001)
Although USSearch was separate from Classmates.com, USSearch used data from Classmates.com, combined with records supplied by Intelius to provide public records searches for online people searches, background checks, criminal records searches, property records inquiries, and reverse phone lookups.
More recently, USSearch put it's database to work offering social network searches to locate social media records for searched individuals.
Although USSearch had been buying data from Intelius for several years, Intelius bought USSearch in 2010. However, Intelius made very few changes to the USSearch business, and the site continued its operation uninterrupted.
USSearch.com (2010)
A few years after being purchased by Intelius, USSearch.com added an email address finding service to round out it's battery of people searches.
Today, USSearch still focuses on individual people searches and generates revenue selling ad space on the USSearch.com website.
USSearch.com (2019)
That's it for our coverage of the classic online people finders. Do you use any of these services? If you don't, but you need personal information, check out the Searchbug business services and individual people finding tools.
https://www.searchbug.com/info/wp-content/uploads/2019/05/First-Online-Data-Services-Searchbug-e1558380848537.png
313
560
James Miller
https://www.searchbug.com/info/wp-content/uploads/2019/12/SearchbugLogo500x197-400x108.png
James Miller
2019-05-21 07:00:28
2019-12-02 20:23:05
What Happened to the First Online People Searches?