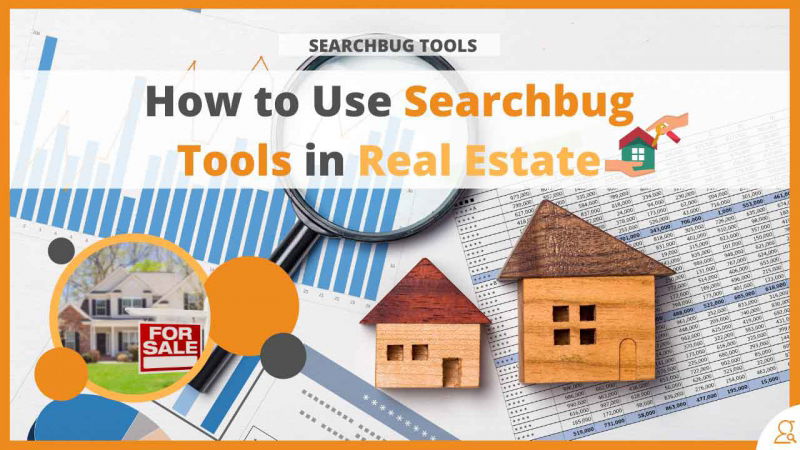 Feb12
How to Use Searchbug Tools in Real Estate
Real estate transactions can be a tedious process. Buying/selling a house can be tricky, and it can feel like it is taking forever. There can be complications along the way that can result in a lot of delays. Worse case is, there might be a reason discovered along the way where it becomes impossible for the deal even to push through. Searchbug tools are helpful in setting expectations in real estate transactions in the hopes of expediting the buying and selling processes.
According to the online real estate marketplace Zillow, one of the common reasons that cause a delay in the closing process is title issues. Zillow said, "If the seller has any unresolved liens or judgments on the home, or if any other ownership disputes are uncovered during the escrow process, the closing can be delayed while these issues are resolved."
Searchbug has tools that can help minimize delays. If you are a real estate agent, you can use it as an all-in-one property research resource that results in quality leads that convert. As a buyer, you can use the property search tool to help identify specific issues from the get-go and avoid delays along the way that prevent you from getting your dream home.
Selling? How to Build a Quality Leads Database?
A successful real estate company is a product of high-quality leads. According to real estate marketing platform Placester, 60% of real estate agents look for leads every day. Meanwhile, the National Association of Realtors identified that 28% of buyers had found their dream home through a real estate agent. Therefore, these statistics serve as proof that lead generation is critical in real estate.
There are several strategies that you can use to generate real estate leads. Here are some of them:
Real estate website – To make your business credible, you need an online presence, which starts with a website. One of the things you can take advantage of on your website is posting blogs regularly. According to the marketing platform HubSpot, companies that create blogs 11 or more times a month get four times more leads than those that only post four or five times a month. Blogging is proven to be an effective way to obtain targeted traffic from social media and search engines, which helps in building your leads database.
Ads on social media – Social media is an effective online platform that you can use to generate leads for your real estate company. You can configure the settings to target the right people based on demographics, location, interests, and more by using ads. Social media is a goldmine for leads when done correctly. With social media, you can utilize visuals to ensure that your message comes across precisely the way you intend it to. Post photos and videos of beautiful homes and neighborhoods to get the attention of potential buyers.
Ads on search engines – Google is the king of search engines, so it pays to be present here as a real estate company. Use Google Ads to promote your listings on the search network, display network, Google shopping ads, video campaigns, and apps campaigns. The increase in presence gives you a better opportunity to obtain more leads.
Local SEO – Optimize for local search engines so you can instantly show up whenever someone looks for a home to buy. Take note that home buyers who search online usually click only on the first few pages of Google.
Collaborate with media sites and influencers – A way to get quality leads fast is to use the power of media sites and influencers. Both have a loyal following that might translate into leads, and being present on either can give your business great publicity. If you are successful with this, the buyers might approach you instead of you having to go out and look for them.
Open houses – The traditional open house is still an effective way to generate leads for your real estate business. Inviting people to see the place you are selling in person is a great way to create a list of potential buyers. You may not close during the open house, but it will result in a list of people you can call afterward.
These are just some strategies you can employ to create a leads database. Generating leads is just one part of the process and verifying if it is a quality lead or not is another part of the process.
After generating leads, you must identify which leads will possibly convert in order to prioritize them. It is equally important to nurture them and make sure that your list is constantly updated so you can convert them into buyers. Using Searchbug's USPS Address Lookup Tool, you can keep your address database fresh and up-to-date. This is also a great way to generate addresses based upon specific neighborhoods or zip codes you want to target for potential sellers. You should ensure that your leads are reachable before cold calling or retargeting them. Avoid wasting time on a database of unreachable phone numbers by verifying your leads in bulk.
How Much Do These Tools Cost?
USPS Address Lookup and Address Verification costs $0.05 per list or verification.
The cost of verifying your leads in bulk through Identify Phone Numbers is based on the number of records in your file, and it goes down significantly as the volume increases. There are volume tiers that start at 1,000, 5,000, 10,000, 50,000, and 100,000. You can use this pricing calculator to estimate the cost. The minimum charge for a list is only $7.00.
How to Find Real Estate Contact Information?
Searchbug has a powerful tool that allows you to find accurate contact information. The Reverse Address Lookup Tool lets you find the names and phone numbers for residential and business addresses.
As a real estate agent, it is essential to maintain a focused leads database of prospects who intend to buy or sell a property now or in the near future. Keeping this database maintained and accurate will afford you the ability to contact your prospects in a timely manner.
How Much Does Reverse Address Lookup Cost?
Looking for the correct contact information using Searchbug will cost only $1 for reverse address search and $2 for address history if you are running them one at a time. You can also look them up in Bulk, utilizing Batch Append, which will save you lots of money in the long run. There is no charge if the information is not found.
Buying? How to Expedite the Transaction with Property Search?
Property Search, or Reverse Address Search for Property Records on Searchbug, allows you to look for property records by providing an address (including city and state).
Simply enter the address of the property that you want to look for, and you can get the following results:
– sale history including title company and loan details
– owner, buyer, and seller names
– property size, assessed value, tax, and delinquency information
– comparables report with details on each property
Property Search is a great place to start.
Since a comprehensive property search can provide the information mentioned above, you have the tools at your fingertips to identify the current homeowner. Take note that only the individual who owns the house can sell it. Although that sounds simple and straightforward, that is not always the case. There can be an instance when a husband and wife sell a house, but it is only in the wife's name. Therefore, only the wife has the power to sell the house and not the husband. It may seem insignificant, but it could be critical, like in the event of a divorce.
When to Perform a Property Search?
Property Search can be done at any point in the buying process. It helps to do it earlier to set expectations and know if you can close the deal since it gives a snapshot of the details about the property.
If you are an investment broker, a property search can help you identify concerns. It can also help you negotiate and tailor your offer.
How Much Does Property Search Cost?
There are two steps for Property Search. Step 1 or Property/Owner List costs $2. Step 2 or Detailed Report costs $5.
There is no charge if there are no results.
Can You Use These Tools on Your Own?
You can use these tools on your own to update your leads database or to check the background of specific properties that you are interested in. These tools are easy to use and are available at reasonable costs. Just go to Searchbug's website and explore the different tools that can help increase the ROI of your real estate business or expedite the process of your home purchase.
Once you have the pertinent information in front of you, it is time for you to take the proper steps forward to reach out to potential buyers, convert leads, and increase your ROI. Use the information from these tools to make better real estate decisions and strategies.
If you are ready to boost your real estate business or you want to make sure that you get your dream home, try Searchbug now!
Try it now
https://www.searchbug.com/info/wp-content/uploads/2022/02/How-to-Use-Searchbug-Tools-in-Real-Estate_ok.jpg
720
1280
Katrina
https://www.searchbug.com/info/wp-content/uploads/2019/12/SearchbugLogo500x197-400x108.png
Katrina
2022-02-12 10:09:44
2022-04-14 09:42:32
How to Use Searchbug Tools in Real Estate