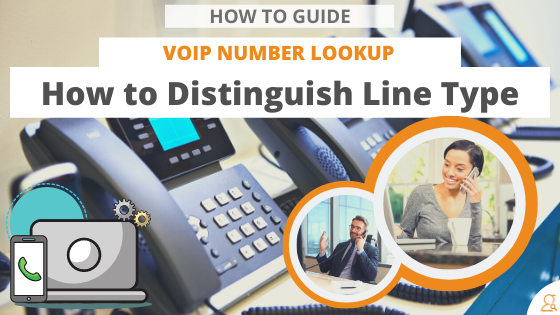 Aug31
VoIP Number Lookup: How to Distinguish Line Type
A VoIP number lookup lets you know who owns a VoIP number, whether it is a VoIP number, and what the local exchange carrier is. Lookup tools work the same for VoIP numbers as they do for cell phones and landlines. 
In many ways all three phone types are similar. But there are some differences. For this reason, it is important to identify the phone type of the numbers that enter your database.
In this article, we cover what VoIP numbers are, how they are similar to and different from other numbers, and things you should know about VoIP numbers in order to handle them properly.
What is a VoIP Number?
VoIP stands for Voice over Internet Protocol. Essentially, VoIP refers to communication via the Internet instead of through a phone company. 
Businesses might use VoIP with a hard phone. A hard phone looks just like any old fashioned landline receiver, but instead of plugging into a telephone jack, it plugs into the Ethernet port on a router. 
A softphone option allows users to make calls from a desktop or laptop acting in place of a telephone service. VoIP providers offer apps as well that allow users to make calls from their devices as long as they have an internet connection. 
There are also applications that have taken advantage of VoIP such as WhatsApp and Skype. With just a phone and internet connection, users can make calls seemingly free—or at least at no extra charge. This is one clear advantage of using VoIP.
Why Use VoIP Phone Service?
Due to enhanced features and lower cost, VoIP is becoming more popular as an alternative to traditional phone service options. It is also not uncommon for users to have VoIP in addition to their existing phone service. 
VoIP phone service is cost-effective and offers features that are especially helpful to businesses. The range of features not available with traditional telephone service improve businesses' efficiency and success.
Features
Not all VoIP providers are the same. Some offer features others do not. But it's because of these features that might compel someone to choose VoIP service instead of (or on top of) conventional telephone service.
First, some VoIP service providers offer features similar to those offered by conventional telephone service providers. These include 911 dialing, *69, call waiting, caller ID, call waiting, call blocking, call forwarding, long distance calling ability, and voicemail options. 
You might also get to keep your current phone number and call others with the same service provider for free. Oftentimes users can even choose whichever area code they want. That way calls to and from that area are considered local no matter where the user is.
These features are pretty basic, and the best VoIP providers will offer all or a combination of these features. The competition lies, therefore, in the extra features.
For example, some providers offer the ability to conduct conference calls that can support upwards of three people. Call transfer is a feature that allows users to send someone to a completely different phone. 
And some providers offer users two phone lines that share the same number. Calls come to both lines, but two different people can use the same number in two separate places to make calls.
Toll-free and virtual phone numbers can be assigned by some providers, usually for an additional charge. There are adapters too that can be used while traveling while the stationary business phone is left with the business.
And of course, as we mentioned earlier, some providers offer apps that can be used to make calls from a phone or tablet, outside of a telephone service, using an internet connection.
Cost
VoIP phone service is typically cheaper than traditional phone service. This is because a single network is used to carry voice and data. There's not a lot of special equipment necessary or grueling installation. And most users already pay for internet service to conduct other aspects of their personal and professional business.
There are of course different VoIP service package options. Some cheaper options require contracts and charge hefty fees for early cancellation. Others offer monthly plans for higher rates.
Then there's the matter of long distance and international calls. Depending on their needs, users can choose packages that offer unlimited international calling, different rates for calls made to specific countries, or a combination of very cheap domestic minutes and limited international minutes. 
While VoIP numbers offer many of the same features as traditional phone services, they also provide advanced features that are great for businesses, travelers, and anyone looking for a cheaper alternative. But there are some important differences to consider.
Similarities and Differences Between VoIP and Traditional Phone Services
Landlines are stationary phones with only calling capabilities, not messaging. Cell phones are mobile and have the ability to hold, forward, and conduct three-way calls. They also have messaging capability. 
VoIP numbers are the most versatile of the three. They are not only mobile, but they can be used wherever there is internet with no need to change the number with the location. Local, long-distance, and international rates also stay the same regardless of the user's location. 
The number one downfall of VoIP is also its number one benefit: it can only be used with a strong internet connection. For this reason, it isn't a good idea to rely on a VoIP number in emergency situations. You could argue that cell phones have the same downfall; they only work when there is a signal.
Spoofing
Another downfall of VoIP numbers is that they are the easiest numbers to spoof. Spoofing is when someone fakes caller ID information. For example, one person calls posing as someone else and uses that caller ID information to fool the recipient into believing the guise. According to McAfee, most spoofing is done using a VoIP service.   
VoIP numbers look the same as any landline or cell number. They are formatted with a three-digit area code, three-digit prefix, and four-digit line number. Users with existing phone numbers can use those same numbers with a VoIP service.
Regulations
VoIP service providers are regulated by the Federal Communications Commission and are subject to similar regulations as traditional telephone service providers. These include the Personal Data Privacy and Security Act, the Telephone Consumer Protection Act (TCPA), and the Do Not Call Registry (DNCR). 
So no matter the line type, you need to make sure you are compliant when making marketing calls. Calling numbers, VoIP or other, listed on the DCNR can cost millions of dollars in fines. 
Conducting a VoIP number lookup can let you know what the line type of a number is and whether it's on the DNC list. You can distinguish numbers in batches for a large list or database, or verify numbers at the point of entry with an API. These tools are also useful for identifying who owns a VoIP number.
How to Find Out Who Owns a VoIP Number
VoIP numbers are easy to spoof because when users set up their accounts, they can choose how they appear on caller ID. Users can also choose their area code, so scammers are then able to target specific areas with higher success because recipients are more likely to answer a number they recognize.
There are many different ways, free and paid, to find who owns a phone number, but these routes are not always the most effective for identifying the owner of a VoIP number due to its flexibility.
There are alternate routes you can use on your own for tracing a VoIP number, but again, they are labor intensive and not always accurate because of spoofing. The best way to find the name behind the number is to use a reverse VoIP number lookup. 
Searchbug's reverse phone lookup provides the line type and owner's full name, street address, and email address if known. Using Searchbug's VoIP number lookup tool, you can find out whether the number is listed on the DNCR, whether it's reachable, and the local exchange carrier (like Level 3 Communications, for example) for VoIP lines.
Conclusion
When it comes to making the most out of your data, treat VoIP numbers the same as any others. You still need to know who is on the receiving end, which numbers are active, and if they are on the DNC list.
If you receive calls from unknown numbers or simply need to trace a number, VoIP or other, reverse phone lookup is the best way to get the most accurate information. 
VoIP numbers are becoming more and more common. And they look just like any other number. Make sure you know who is on the other end so that you can protect yourself from scammers who fake caller ID information. 
With reverse phone lookup and VoIP number lookup, you can call and answer with confidence. Try it today!
https://www.searchbug.com/info/wp-content/uploads/2020/08/VoIP-Number-Lookup-How-to-Distinguish-Line-Type-e1598844805790.png
315
560
Amber Iven
https://www.searchbug.com/info/wp-content/uploads/2019/12/SearchbugLogo500x197-400x108.png
Amber Iven
2020-08-31 12:57:02
2021-11-30 18:06:33
VoIP Number Lookup: How to Distinguish Line Type