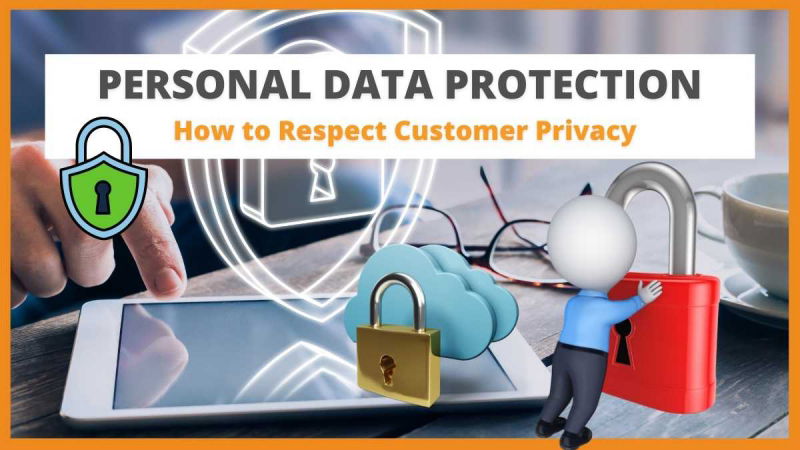 Feb07
Personal Data Protection: How to Respect Customer Privacy
 Personal data protection is not just the responsibility of individuals but also of companies that collect, store, and use consumer data. If you collect names, numbers, addresses, and other personal information—no matter how sensitive—you need to develop processes for keeping that information private. Otherwise, you lose the trust of your customers and clients, sacrifice your reputation, and potentially face fines and other legal fees associated with breaking compliance regulations that apply to your business.
Therefore, it's incredibly important that you handle consumer data responsibly. In this article, we'll share some tips for respecting consumer privacy.
What is Personal Data Protection?
Personal data protection is also known as data privacy or information privacy. It involves five aspects:
Collection of data

Dissemination of data

Technology

The public expectation of privacy

The logical and political issues surrounding the above
If you collect personal data and if you use personal data, it is your responsibility to handle it responsibly. That means respecting the privacy of the consumers whose data you handle. This includes restricting access to the information, preventing data breaches, and using the data ethically and transparently.
Here's why:
First of all, the public expects the personal data that they provide to be handled professionally. If you are able to collect consumer data, consider yourself lucky because 79% of U.S. adults are concerned about how companies use their data. This causes consumers to be relatively cautious and selective about who they share their personal information with. In exchange, they expect a modicum of privacy.
Now, a majority of Americans know that their data is collected every day by companies, but roughly that same number don't understand exactly how it is used. This is a great opportunity for you. Transparency can help build that trust with existing and prospective clients and customers. Next, take a look at some ways you can implement personal data protection in your business.
What Personal Data Protection Means for Businesses
If you develop a reputation for respecting consumers' privacy, you'll experience greater success. But how do you do that? First, try to address the following consumer concerns:
What personal data is required?

Do I have the option to choose what information to release and when?

Who has access to my personal information and for how long?

Is my personal information sold for profit?
Make sure your customers know why you are requesting certain information, how they can opt out, how you will use the information, who will have access to it, and whether or not their information will be sold.
The following steps can help you make sure you are handling personal data responsibly:
1. Assess Your Data Collection Practices
The only way you can identify areas for improvement in your personal data protection practices is to assess what you are already doing (or not doing). 
First, make sure you are adhering to the various privacy laws and regulations that apply to you (GDPR, CCPA, HIPPA, FTC, TCPA). Second, take proper data security measures to keep personal information safe from unauthorized users, breaches, attacks, and exploitation whether by internal or external entities.
Third, follow data governance best practices to ensure you use personal data both profitably and ethically. In short, data governance refers to the decisions you make regarding customer data. For example, make sure you collect only the data you need, and make sure only the necessary departments have access to that data.
Finally, monitor your third-party vendors. You are responsible for any partner or vendor conducting business on your behalf. So make sure they are held to the same data collection and data governance policies you lay out for your own business.
2. Adopt a Privacy Framework
A privacy framework can help lay out some guidelines and procedures for you. This will save you some time and energy. Privacy frameworks help manage risk and integrate privacy management strategies to promote a culture of privacy within your business. Choose from any number of existing frameworks, research them, and choose one that works for you.
3. Educate Your Employees
If you've already taken steps 1 and 2, you might have already developed a process for educating your employees because it is an important part of any personal data protection process. You cannot expect the personal data you collect to be handled and managed safely and privately if you haven't trained your employees to do so. 
Develop a privacy policy for your business, communicate it to your employees or team, and make sure everyone is clear and on board. Make sure they know how privacy and data security applies to the work they do on a daily basis. Finally, encourage or require frequent updates of the privacy and security settings on work and personal accounts company-wide.
Responsible Data Alliance + Searchbug
Responsible Data Alliance (RDA) is a group of companies dedicated to reducing the amount of public information on "at risk" individuals. These individuals might have had their identities stolen, restraining orders, or been violently threatened or targeted in the past. Therefore, they are considered Protected People because having their information made public could lead to further attacks.
RDA provides a place for these identified individuals to easily opt-out of data collection websites. Searchbug is one such website. Therefore, Searchbug has joined the RDA as a way to support the personal data protection of credibly threatened individuals.
To ensure personal data is used responsibly, RDA's partners promise to remove public data on Protected People from their internet services. To become identified as a Protected Person, individuals can submit the form on the RDA website. This one form will protect these individuals on the websites of each of the RDA's partners.
Searchbug's Personal Data Protection Policy
Searchbug is dedicated to keeping your personal data private. Therefore, you do not have to be a Protected Person to opt out of having your information available to the public. If you are a California resident, you are protected under the California Consumer Privacy Act (CCPA). You can also add your cell phone number to the "Do-Not-Text" list to prevent SMS text messages from Searchbug users.
As an individual, if you are concerned about the privacy of your data, check each company's privacy policy before providing your personal information. As a company, make sure you have a clear privacy policy in place as well as procedures for your employees and third-party vendors to follow to ensure that all personal data you handle is properly protected. Your reputation depends on it.
https://www.searchbug.com/info/wp-content/uploads/2022/02/Personal-Data-Protection.jpg
675
1200
Amber Iven
https://www.searchbug.com/info/wp-content/uploads/2019/12/SearchbugLogo500x197-400x108.png
Amber Iven
2022-02-07 08:00:24
2022-02-07 10:58:10
Personal Data Protection: How to Respect Customer Privacy