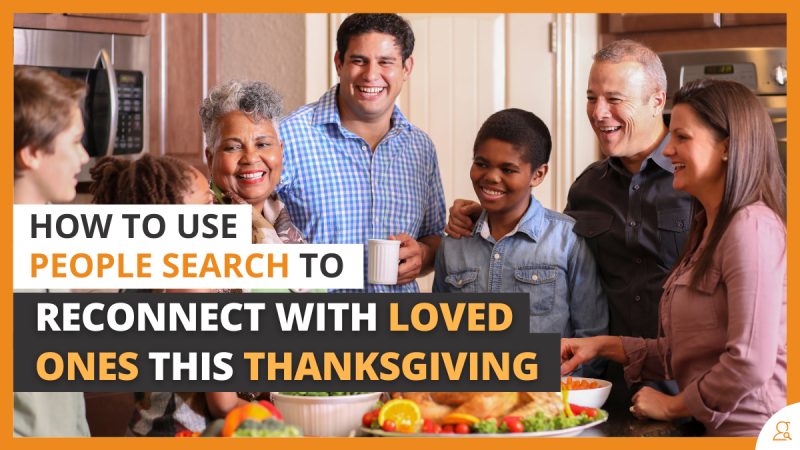 Nov21
How to Use People Search to Reconnect with Loved Ones this Thanksgiving
People search, also known as people finder, is a quick and easy way to get in contact with almost anyone. A popular tool for businesses that want to verify and update contact records, people search is also helpful for personal use.
Thanksgiving is one of the most social holidays. It marks a busy time of year for a lot of people. But what about those for whom it isn't? Brighten someone's day this year by reaching out with a phone call or letter.
There are many benefits of reconnecting with loved ones, especially around Thanksgiving. Find out how reaching out to long-lost friends and family this holiday season can help combat the loneliness epidemic and the holiday blues.
Why Reconnect with Loved Ones this Thanksgiving?
There are many good reasons to reconnect with long lost friends and relatives any time of the year. But the holidays gives people a more specific reason to reach out.
It's a very social time of year, a time of giving, a time of thanks. What better time to reach back out to those you are grateful for and have lost touch with?
Rekindle Relationships Lost During the Pandemic
The Covid-19 pandemic certainly changed the way many people socialize. Those whose workplaces fulfilled their social needs have found themselves homebound, conducting work exclusively from behind screens and video calls. Parents who socialized at school pick-ups, birthday parties, and sporting events had to push pause as large gatherings have been reduced.
Added stress due to unexpected changes and adaptations has left many people without the energy they once had for socialization. And the fear of getting sick or spreading the virus has also caused people to retreat into the safety of their homes even still.
Any friendships based more on doing things together than having conversations have especially struggled, says Moira Lawler. Obviously, people were forced into solitude during the pandemic, but we are still very clearly feeling the effects.
A 2021 study found that people, especially women and those in poor health, reported an increased sense of loneliness and a decreased sense of friendship in May 2020 pandemic-linked social distancing surveys over those conducted before the pandemic. These lasting effects could warrant some action.
In response to this increased loneliness and decreased friendships, it might be more important now than ever to take the first steps in reaching out to those pre-pandemic acquaintances you may have lost touch with.
Avoid Being Lonely
There are some people who are grateful for the lessened social expectations of late. Working from home can alleviate other stresses such as daily commute and physical appearance requirements. Some are thankful for an acceptable excuse not to travel excessively. Others are happy enough to stay home with their pets or immediate families.
However, while this may be a refreshing change during the majority of the year, most people cannot escape the "holiday blues". America has been facing a loneliness epidemic since even before the Covid-19 pandemic.
Those with social anxiety disorder (SAD) or chronic loneliness might be particularly prone to the holiday blues. And while it might be hard to get out of the house and join large gatherings, a simple phone call, email, or letter to a long-lost friend or loved one could be just enough to get you through a particularly lonely time of the year.
With the help of the internet and other useful tools like people search, almost no one is out of reach. And just because you don't go out, it doesn't mean you have to be lonely.
Keep Others from Being Lonely
Even if you don't struggle with the holiday blues, your thoughtfulness could help someone you know who doesn't get out much or have many friends or family. It is particularly common for the elderly to experience feelings of depression during Thanksgiving.
They may be reminded of friends and family who are no longer around. They may not receive invitations or may just be unable to get out to attend any get togethers or festivities. Thanksgiving is a great time to share your gratitude for any elders in your life who have made a difference.
There is less of a chance that you'll be able to find members of older generations on social media, so tools like people search can be a quick solution to locating phone or address information.
Improve Your Mood
There are many reasons why catching up with others can improve your mood.
First, if you're experiencing loneliness, getting outside of yourself and giving to someone else allows you to move your mood forward and address your own loneliness, says Ken Yeager.
Second, the holidays can spur fond memories, and sharing them with loved ones can be an enjoyable way to relive them. Getting in touch with your past can also be therapeutic. Remembering challenging times you've had and comparing them to where you are now can be affirming. Seeing old friends can help remind you of who you used to be and who you have become.
You may even experience the opposite. Maybe life has gotten in the way so much that you've forgotten the values you used to uphold. Maybe it takes someone from your past to remind you of the person you want to be.
According to Verywell Mind, people start disconnecting from friends after the age of 25. This is typically when people start focusing on their careers, move away, start families, and life's responsibilities get in the way of our social lives. Naturally, we miss our childhood and college friendships, and it can be fun and meaningful to get back in touch after so long.
People search can help you locate friends who have moved away for college or for work. You can even get an updated phone number or double check the one you have that might have changed.
Build Your Community
Chances are you have changed since high school or college. And your old friends certainly have as well. Reconnecting after a number of years can offer new perspectives on life, the world, your past.
It also allows you to build and strengthen your community. Widen your social circle and feel more connected to your roots by rekindling old friendships. And help friends who might have fallen out of touch with the community to do the same.
How to Use People Search to Reconnect with Loved Ones
People search allows you to find people by address, name, phone number, or email address. How? By using a standard people search to find any contact information, you can enter any information you do have (even if it's just a name) and search to get a report of the person's last known contact information.
Using public records, phone books, vital records, real estate records, magazine subscriptions, voter registration, and proprietary sources, people search provides you with accurate data in minutes for as little as a dollar.
Did you get some information wrong in your search? No worries! You aren't charged if no information is found.
If social media and other online searches fail you, or if you'd like to surprise someone with a phone call or letter, people search is a great way to get updated contact information for long-lost friends and family. This holiday season, don't hesitate to reach out. We are sure your loved ones will be happy to hear from you.
https://www.searchbug.com/info/wp-content/uploads/2022/11/HOW-TO-USE-PEOPLE-SEARCH-FOR-THANKSGIVING.png
675
1200
Amber Iven
https://www.searchbug.com/info/wp-content/uploads/2019/12/SearchbugLogo500x197-400x108.png
Amber Iven
2022-11-21 08:28:30
2022-11-21 08:28:35
How to Use People Search to Reconnect with Loved Ones this Thanksgiving