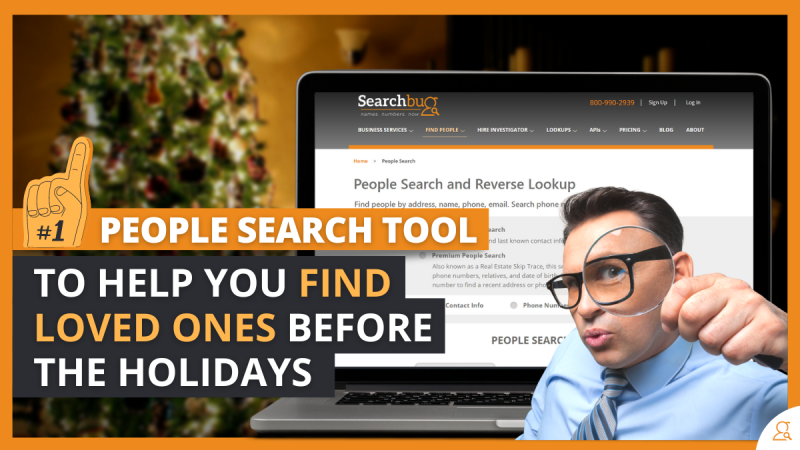 Nov14
No.1 People Search Tool To Help You Find Loved Ones Before The Holidays
Perhaps you are looking for a long-lost relative or an old friend you haven't seen in years. Or you want to reunite with your childhood sweetheart. You may want to reconnect with a former co-worker, or it is time for that high school reunion. Or you just can't find them on social media
Whatever the reason, people search tools allow you to find people just in time for the holidays. This is all possible with just a tiny amount of information you have about someone.
If you have lost touch and have tried searching for those friends and relatives on social media but cannot find any leads, it is time to finally use a people search tool to find and reconnect with them.
So if you are looking for a way to connect with loved ones before Thanksgiving, Christmas, and the New Year, or if this sounds like something that would help ease your holiday blues, then keep reading!
What is a People Search Tool?
It is common for people to lose touch with each other as time passes, but that does not indicate they cannot reunite.
Finding old friends and relatives might appear challenging, but it is probably easier than you think. Due to the advancement of technology, it is easier to find people even if they move from city to city yearly.
People Search is a tool that can help desperate searchers to find people. It works by providing basic information about your subject. A people search tool will search for names, addresses, emails, or phone numbers across millions of digital records in its database.
That is why it is helpful for those looking to reconnect with old friends and estranged families, especially this holiday season.
Why Do People Lose Connection With One Another?
According to the research done by the Royal Society Open Science, the number of friends most people have tends to peak at about age 25. The numbers decline as people get married, have children, and focus on their careers.
Moreover, that research has shown that the frequency with which people call their friends and family correlates with the number of times they see each other in person.
People move, change careers, reach for new heights, want a change of scenery, move for a job, or just outgrew the place and are looking for something different. They also outgrow people and hobbies they once had fun with, and that affects how frequently we contact each other. Calls will be consistent at first until it becomes gradual, and sooner or later, you realize that you haven't spoken to them for a long time.
As we grow older, we often have less time and energy for friendships. But if you are retired, you may have more time to restore strong-bond friendships and cultivate new ones.
Losing a connection with people is not always a bad thing. But if the connection is genuine, it will always find its way to reconnect with each other. However, the most-awaited reunion may take some time before it happens.
How To Find Long Lost Friends or Relatives on Searchbug's People Search Tool
1. Collect Everything You Know About Your Subject
Good things happen to those who come prepared. Before searching for your subject on a people search tool, list all the information you know about them first. These may include:
Full name (or as close to this as possible)
Nicknames/aliases
Birth date
Previous home addresses or locations
Past email addresses and, or phone numbers
List of potential family members and associates
These will help you narrow down your search and be more precise with the results you will get. You may check your old contact list, directory, slam book, or yearbook for some contact information.
2. Go To Searchbug Website To Access People Search
It is the moment of truth to your journey to finding your old friends and long-lost relatives! You may probably have heard of other people search engines like BeenVerified, Spokeo, TruePeopleSearch, TruthFinder, and many more.
However, their pricing is the downside of using these people's search engines. Most of these charge monthly subscriptions or higher fees to access such information. There are free search engines; however, they give inaccurate or outdated information.
Searchbug, on the other hand, is a premium people search engine site that only charges searchers a minimal fee as low as $1 without any tricks, or gimmicks like a monthly subscription or packaged promotions. Searchers can search and go without worrying about recurring payments!
Without further ado, here is how you can find your subject using Searchbug's People Search tool:
Create an account, create yours by signing up or signing in using Google, Facebook, or LinkedIn for faster access.
Once you're done, go to the Home Page and click "Find People" on the menu tabs
Choose "People Search" next
Select your type of search: standard or premium; the standard search will provide you with results such as name, phone number, email, and address. On the other hand, the premium search will return the basic contact information the same as the standard type, PLUS additional information such as a nickname, date of birth, relatives, all known addresses, and phone numbers.
Pro Tips:
The Premium search is also just a one-time no subscription search but includes all the wireless (aka mobile phones) tied to the info you enter.
So, if you enter just an old address, you'll get all the names and phone numbers ever associated with that address for one low fee, without any gimmicks.
If you enter just a last name with city and state, this is considered a wide net search; you're going to get a lot of information since it will be everything found that matches what you enter.
Entering an old phone number will return all names, addresses, and any new or other associated phone numbers as well.
3. Reach Out and Connect
If your search is successful, it is time to connect with the person you've been searching for the longest time! In case the result includes an email, think of emailing them a lengthy message. If there is a phone number, try to send them a text before calling.
Worst case is if the result does not include any of the two, but if there is a home address, consider sending them a letter! Who does not want to receive a heartwarming note in this digital age?
You may start with these usual and traditional ways of reaching out. Sooner or later, you realize that you are already friends on Facebook, video-calling on WhatsApp, liking each other's Instagram posts, and replying to witty, dramatic, or casual Tweets.
Alternative for People Search: Skip Trace
If you have yet to find any records of your subject using the People Search Tool, don't worry! There is still a chance. For hard-to-find people, there is something called "skip tracing."
You might be wondering, "what is skip tracing?" Well, this is a method used to locate someone's whereabouts, especially those who leave minimal clues about them.
One of the reasons why people can't be found on people search tools is that the person does not share any of their contact info offline and online. The records found on the database are from public and private sources such as government records, social media, sign-ups, memberships, and the like.
Another reason would be that the subject opted out of its contact details being listed, which is why it was deleted.
Skip Trace
Private investigators usually use this method to find subjects that are not traceable using public records. To perform such tracing, they need to access private data often regulated by Federal or State guidelines.
Because we partner with several private data providers and pay hefty fees to access this same specialized data, we can offer our customers access to the same specialized data without any setup fees or monthly fees.
The only thing you need to access Skip Tracing of Searchbug is to upgrade the standard account you used for People Search and apply for a restricted account.
For you to access this information, there should be a solid reason you should be permitted to access data as they are confidential and hard to obtain that basic search tools such as people search and social media searches cannot provide.
Conclusion
It is only natural to want to feel like you have a handle on what your loved ones are doing, especially when it comes time for the holidays.
With our people search tool, you can find anybody. You can use our database to find your long-lost friends and relatives.
If you have tried using other people search engines and found no luck, try Searchbug this time! With millions of records from public and private data sources, there is a high chance that the contact details of the person you are trying to find are here.
Check out our website today, and feel free to ask us a question if you have any. Our team of friendly and professional customer agents is there to assist you via call, email, or live chat.
People Search Tool has helped millions of people reunite with their loved ones, and we hope it will do so for you too!
https://www.searchbug.com/info/wp-content/uploads/2022/11/People-Search-Tool-To-Help-You-Find-Loved-.png
675
1200
Armie
https://www.searchbug.com/info/wp-content/uploads/2019/12/SearchbugLogo500x197-400x108.png
Armie
2022-11-14 10:42:45
2022-11-14 10:42:49
No.1 People Search Tool To Help You Find Loved Ones Before The Holidays