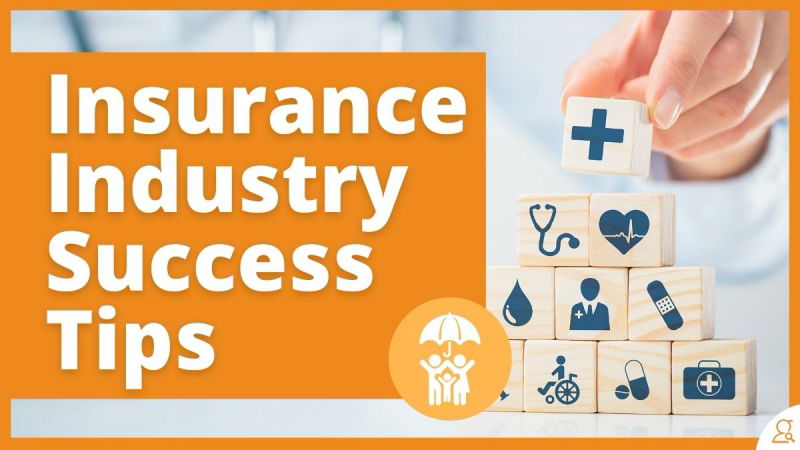 Feb22
Insurance Industry Success Tips
The insurance industry is fiercely competitive, with both large and small insurance companies vying for new clients by lowering their prices. As an insurance agent, you must keep up with the times by employing smart and new strategies in order to succeed. Thankfully, there are methods to do this professionally and cost-effectively.
Whether you realize it or not, independent insurance brokers are small business owners. Even if you work for an insurance firm, you are likely compensated on a commission basis. Due to this arrangement, your take-home pay is determined by your ability to produce, or in this case, provide insurance to those who require it. By distinguishing yourself from other agents offering the same product, successful agents improve their sales.
Going into the insurance industry is challenging but it can be a fun and rewarding experience if you know what it takes to manage a successful business. Whether it is to protect their homes, their cars, their health, or their possessions, everyone requires some form of insurance. You will not only benefit financially from running an insurance company, but you will also be able to provide useful and necessary service to your customers.
How to be Successful in the Insurance Industry?
How can you succeed in the insurance industry? Here are some of the smart things you need to do if you want to thrive in the insurance world.
1. Know your products
Even the best salesperson cannot close a sale if they don't know what the products are or what they do for the customer. There is a lot of information to learn about insurance products because state laws and corporate policies govern them. Different insurance products have different coverage and terms. You need to understand them so you can easily explain why your customers should purchase them.
Before you get your insurance license, you must first study about your state's requirements. If an insurance firm hires you then you will receive company training. So, use the training to your full advantage. Nonetheless, seek out the insurer's relevant continuing education seminars and product training to ensure that you have all the information you need to comprehend the policies fully. Finally, make it a point to learn about your competitors' products as well, so you can successfully deal with inquiries and comparisons.
2. Be the go-to resource for information
Trust plays a major role when it comes to becoming successful in the insurance industry. You want to be a reliable source of information for your current and potential clients. It is not enough to fully understand a product before a customer signs a contract. It requires you to make your name synonymous with your insurance product, establishing yourself as the go-to source for this type of information.
How can you do this? You need to be knowledgeable when it comes to everything insurance.
Write pieces for local newspapers and trade periodicals, as well as trade publications. Organize free insurance education courses at your local library or community center to educate people about insurance. You might want to think about starting a newsletter or a website for your market that covers significant insurance news and gives away free information.
3. Master one type of insurance
Insurance licenses are available in a variety of areas, including health, life, home, car, property, and casualty. Meanwhile, the most successful insurance agents are only experts in one or two products. It allows you to focus on a specific type of insurance and become an expert in it.
However, don't get too caught up in one product and forget about the others. You can sell and service various types of insurance to your consumers as long as you are licensed, eventually taking care of all of their insurance needs. Simply concentrate all of your efforts to become a master in one type of product and then go from there.
4. Enhance your people skills
In reality, an insurance agent is selling a promise to pay if a covered catastrophe occurs. Since you are selling your word and not a tangible product, your interpersonal skills are even more critical to your success.
Working with a potential client requires you to gain their trust. You should build a long-term relationship with them by using your people skills so you become their go-to source for insurance products at all stages of their lives.
You can build a tight relationship by being in constant communication with potential customers. If you have a client database, make sure that you have the updated information. Run your database through Searchbug's Batch Verify Tool to identify outdated phone numbers that need to be cleaned. Searchbug has been a Bulk Phone Validator expert since 2006. Therefore, you can be sure that you get accurate data because no other phone validator comes close to offering various ways of checking phone numbers.
When it comes to cost, the price depends on the number of records in your file and it goes down significantly with larger volumes. Volume tiers start at 1,000, 5,000, 10,000, 50,000 and 100,000. You can use this Pricing Calculator Tool to identify a specific quote. There is a minimum charge of $9.00 and you can't use Search Tokens for batch processing.
5. Promote yourself
Insurance can be tricky to sell. A typical marketing strategy, such as commercials and print advertising, may be taken over by the insurer in some situations. However, they don't necessarily advertise you as an agent.
Networking activities are a great way to meet new people and foster relationships with potential clients. It could entail joining a networking group or engaging in a trade group for insurance. Non-business or insurance organizations, such as religious organizations and service groups, are also a good way to get your name out there in the community and make your presence known.
6. Create a weekly or monthly newsletter
You can provide critical industry information, ideas, and guidance to your consumers through a printed hard copy newsletter or an email version. Regularly produce high-quality content for your newsletter to build trust. You gain trust with your audience by sharing information with prospects and consumers that they can use in real-life circumstances. You will be viewed as an expert in insurance if you have a high level of credibility. Most customers prefer to do business with an expert.
7. Generate valid leads
When you start becoming proactive with your strategies, you need to make sure that you have valid leads before you even pick up the phone. Every year, millions of phone numbers are recycled. People are more likely to change their phone number than they are to change their insurance provider.
As a result, there is a risk that your existing client databases. Cold call lists contain old and inaccurate phone numbers. You'll want to avoid this scenario because bad data costs you money and time.
Your data will be dependable if you use Searchbug's Batch Append Services. Collect names, addresses, phone numbers, and other information. Alternatively, you can distinguish between cell phones and landlines to avoid TCPA violations and text messages wasted on landlines. Test our data and append to a list of outdated contacts using this Bulk Data Append Tool.
When you use this service, you are only charged for the hits. A hit is when one or more records are found for a single line of data in your list. Example: 3 names found for 1 address = 1 hit. The cost ranges from $0.04 to $0.20 per hit depending on volume for Standard Append and $0.30 to $0.77 per hit for Premium Append.
Before you commit, you will have a chance to see your maximum cost (assuming 100% hit ratio) based on the file record count and selected append option. You can use this Pricing Calculator to estimate a specific quote. There is a minimum charge of $9.00 for each batch upload. So, make sure you have a good amount of records in your file to ensure you are meeting the minimum required amount. You can't use Search Tokens for batch processing.
8. Do regular customer check-ups
Once or twice a year, send an email to your existing clients. It is a form of check-in or check-up news that keeps you in the minds of your clients while also demonstrating your concern. Do this to evaluate your client's insurance coverage on a frequent basis. It is also a good idea to urge clients to let you know if their circumstances have changed so that you can work together to adjust their coverage.
If the consumer needs a new or revised policy, this is a form of indirect marketing. You are not trying to pitch them on a specific insurance product or service, but rather exhibiting your thoughtfulness, which may lead to a sale.
To make sure that your messages land in the right email inboxes, use Searchbug's Advanced Bulk Email Verifier. This tool lets you verify hundreds or thousands of email addresses at once, saving your time and effort.
https://www.searchbug.com/info/wp-content/uploads/2022/02/Insurance-Industry-Success-Tips.-BLOG-Thumbnails.jpg
675
1200
Katrina
https://www.searchbug.com/info/wp-content/uploads/2019/12/SearchbugLogo500x197-400x108.png
Katrina
2022-02-22 12:10:32
2022-02-22 12:14:50
Insurance Industry Success Tips