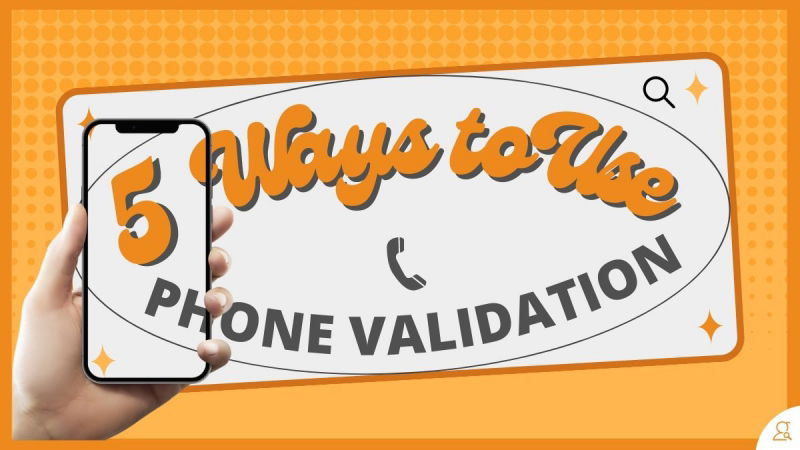 May09
5 Ways to Use Phone Validation
Phone validation is important to making sure you make the most out of your customer data. There is so much more information you can use just by running a phone number (or list of numbers) through a validator.
There are many reasons why people change their phone numbers. You don't want to find out by accidentally calling someone to whom those numbers have been reassigned. There's a quicker, less invasive way to keep your phone lists up-to-date without hassling your leads.
What is Phone Validation?
Phone validation is the process of discovering details associated with phone numbers. Phone validation allows you to find out the line type of a number, the carrier name, location information, the reachable status, and whether or not it is registered on the Do-Not-Call (DNC) list.
All you have to do to use Searchbug's phone validator is enter any US or Canadian number, indicate the information you'd like checked (search type), and click Verify! Information comes from the North American Numbering Plan Administration (NANPA)/Canadian Numbering Administrator, specialized phone company databases, proprietary data and methods, and other near-real-time sources. This guarantees that your results are the most up to date and accurate.
There are three different ways you can validate phone numbers. First, you can use a phone validation lookup to verify details for a single number. Or, if you want to validate an entire list of numbers, you can use a bulk phone validator. We recommend you do this regularly to keep your records up-to-date.
Finally, you can use a phone validation API. This allows you to access phone details in real-time by integrating the tool into your own website or software. Why might you need this? Keep reading for 5 ways you can use phone validation to improve your systems.
5 Ways to Use Phone Validation
Phone validation is great for businesses that handle customer phone number databases. But even if you only have a number or two here or there that you want more information for, you can quickly and cheaply validate numbers as necessary. Here are 5 ways you can use phone validation to improve your processes. In what ways can phone validation help you?
1. Maintain an Accurate Database
The number one reason to use phone validation is to ensure you maintain accurate information in your database. If customers change their phone numbers or port their landline numbers to a cell phone, you want to know. Customers are not likely to update their contact data with each and every company they do business with every time their information changes.
Therefore, you want to stay ahead of it to prevent costly mistakes. Having up-to-date, accurate information improves your reputation. How embarrassing would it be to contact the wrong person at an outdated number? If you can handle information updates without hassling your customers, they will appreciate your attention and the time and effort you save them.
Personal data does occasionally change (people move, change jobs, port to new carriers with better service, avoid unwanted callers, etc.). Therefore, a good rule of thumb is to validate all of the numbers in your database every six months. This will minimize the amount of outdated data that falls through the cracks. It takes just a few minutes with a bulk phone validator.
2. Increase Productivity
In addition to outdated numbers, you want to know if there are numbers in your database that are fake, incorrect, or invalid. Data entry mistakes happen all the time resulting in incorrect and invalid numbers. Consumers who value their privacy and want to avoid telemarketing calls might provide fake or incorrect phone numbers on lead generation forms and other sign-up sheets.
The more valid, active numbers you have on your list, the more productive your marketing and outreach will be. You can't always tell if a number is fake or disconnected just by looking at it. A phone validator is a good way to know for sure whether a number is reachable or not. However, if someone arbitrarily provides a number that belongs to someone else, you'll want to protect yourself if it's registered on the DNC list.
3. Remain Compliant
You can use a phone validator to know which numbers are safe to make sales calls to and which aren't. It is a violation of the Telephone Consumer Protection Act (TCPA) regulations to call a number that has opted out of receiving sales calls. You want to avoid doing so in order to escape hefty fines. A phone validation search lets you know if a number has been registered on the DNC list so that you know not to call it.
4. Improve SMS Delivery
If you use SMS messaging to market to and communicate with your customers and leads, save yourself time and money by making sure those campaigns are only sent to the numbers that will receive them. There is no way to tell a cell phone number from a landline number just by looking at it.
So you'll want to use phone validation to find out the line type of a phone number. That way, you know if you can send SMS messages to it or not. This will improve the accuracy of your campaign reports, increase your success, and save you money.
Knowing each phone number's carrier can also help ensure quicker, more accurate delivery of SMS messages. This information might be requested or required by some SMS messaging tools. So why not be prepared by adding this information to your leads list ahead of time?
5. Generate More Leads
Don't waste time on incorrect, invalid, or unsegmented data (data that isn't organized efficiently). Use that time to generate valid leads. Don't get us wrong—when it comes to leads, quality definitely takes precedence over quantity.
This is where a phone validation API comes in handy. For example, you can validate leads at the point of entry before the data even enters your database. This way, you know that you are only working with accurate, validated information.
Then, you can use information like location, time zone, area code, and map to create more effective campaigns. If you have offices in more than one area code, you can assign numbers with certain area codes to teams in corresponding locations. Furthermore, you can plan your calls according to each number's time zone to increase answer rates.
How Can You Use Phone Validation?
Now you know what phone validation is and some important uses. Look for ways you can integrate phone validation into your business to improve your results. There are no monthly fees, subscriptions, or memberships to worry about. Just pay for the information and services you need. Use our pricing calculator for a quote on bulk phone validation service. Try out phone validation today!
Try our phone validation today
https://www.searchbug.com/info/wp-content/uploads/2022/05/5-Ways-to-Use-Phone-Validation.jpg
675
1200
Amber Iven
https://www.searchbug.com/info/wp-content/uploads/2019/12/SearchbugLogo500x197-400x108.png
Amber Iven
2022-05-09 11:04:42
2022-05-09 11:04:47
5 Ways to Use Phone Validation