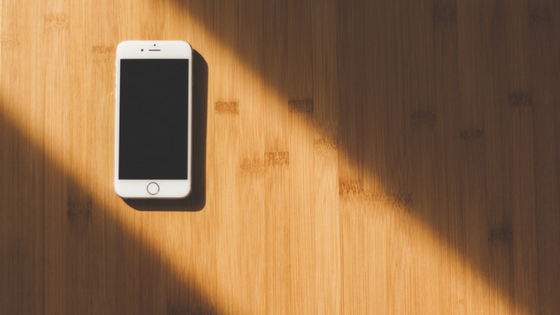 May03
How to Avoid Reverse Phone Lookup Scams
This is a follow up post to my blog about Know Your Data Broker where I talked about Tamara Thompson's blog.
I conducted some simple research to show the differences between what's available online regarding the various reverse phone lookup searches and will show three very different examples to include what bad web sites do to trick consumers and what a good web site should do to show they are trustworthy.
As usual, I will also include what SearchBug does and what makes us different (and better) and why SearchBug customers appreciate everything we do.
First test subject was found via a Google Advertisement. This company pays for traffic and has to use tricks to get customers. When I visited cellphonenumberlookups123 [dot] com it looks professional enough but has an annoying gentlemen telling me it's a "premier" service. I'm sorry, he is annoying.
At first glance I want to see the contact us page. I expect to see a phone number, fax number and address for a legitimate company that wants me to enter payment information online. How can I trust a company that won't even provide a mailing address or phone number.
The image below is a screen shot of the contact page I found on their web site. As you can see, no phone number or address anywhere. But they do say, that you can reach them via phone for help, however to get the phone number, I had to engage in a live chat session during business hours.
During my chat session I asked why the phone or address was not available on the web site. I was not provided with that answer.  I was however given a phone number for customer service but was encourage to email them. No way to tell if I was dealing with someone at the company or if it was outsourced to a third party.
Now on to my test searches.  I purposefully used an invalid phone number to see what web sites would tell me. Would they tell me it was invalid or offer any information, or just try to take my money?
Upon entering my fake phone number 555-234-5678 this web site shows a "processing" screen which took almost 20 seconds (a big waste of time for nothing, other than to make customers think they are really trying to find stuff). Remember, this is the age of computers, we can tell if the number is valid or invalid in split seconds. Here is the first of 4 screens I had to endure to get to the end.
Click on any image to enlarge it and read my comments on the screen shots
After this screen came the next screen in the series.
Here they try and convince me that they found
information for the bogus number I entered.
When I click that continue to next step button I get the screen below which tries to convince me they are searching for even more stuff for some reason.
Now comes the third sales page that tries to tell me
I can get the information I want for just $1.00
Here comes the checkout page,
the fine print is really scary. 
It basically says for your $1.00
you get a 7 day trial to some type of service
and after 7 days you'll be billed
$18.95 per month until you cancel.
Remember, this is all for a phone number I know is Bogus, and here they still try and tell you they found your information, want you to pay $1.00 for it and sign you up for an $18.95 monthly subscription.
That is what I call "wrong". Caveat Emptor – Let the Buyer Beware
Next up – we have Reversephonedirectory [dot] com. These guys appear to be a landing page or reseller for Intelius because when you click thru pages you end up back on Intelius. Here you can clearly see they tell you there are 8 results in some premium database but they don't give you any hint on the names.
Also, if the number is invalid, why don't they tell you that? Seems that they don't reveal that information. They do show you the cities and states, and as far as I know, a phone number can't really be from several different states unless it was a cell phone and the owner moved and kept their number.  But they don't tell you if it's a land line or a cell phone either?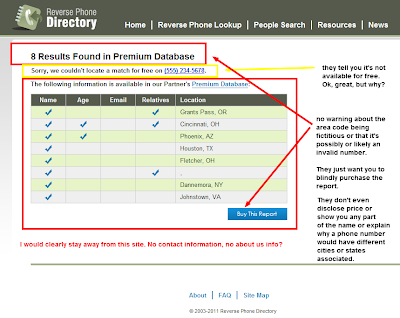 Now we have Intelius and USSearch. Since Intelius now owns and operates USSearch, I would expect similar results from a company their size.  The interesting thing here is that these guys have more computer engineers than any of the other people search web sites in the USA. Why they only tell you the number is invalid and nothing else amazes me.
At lease USSearch shows it big enough to see. Intelius is whispering the information like it's a secret or something. 
There are hundreds of other examples of similar web sites. The important thing to keep in mind is to make sure the web site is reputable, has their address and phone number clearly displayed on the web site and provides enough information for you to make an informed decision if you want to do business with them or not.
You know I saved the best for last. Here is the same number entered into the SearchBug system. Note that we tell you the number is Likely to be Invalid in big letters. We also tell you the reason (because 555 is a fictitious area code).  We also tell you the line type, carrier and calling area are unknown (likely because the area code is fictitious).
So why would there be any names or addresses found in public records for a bogus phone number?  Well, these are public records and as such get input from many resources. Even though the number is invalid, people evidently used the number on documents that end up in public domain and databases that are made available to the public and data brokers.
Keep in mind that because the phone number is fictitious the names and addresses could also be fictitious, however it's impossible to check the information until the full records are purchased.
SearchBug tries to manage customer expectations, providing as much information as possible to let their customers make informed decisions.
ABOUT THE AUTHOR: Noah Wieder is CEO of SearchBug, Inc. and the founder of Best People Search. SearchBug.com offers a Free People Finder and Company Search as well as Data Scrubbing Services. Bestpeoplesearch.com is a private investigator portal and Information Retrieval Services web site where investigators offer searches to businesses and individuals with specific search needs.
https://www.searchbug.com/info/wp-content/uploads/2013/08/carrier.png
315
560
Noah W
https://www.searchbug.com/info/wp-content/uploads/2019/12/SearchbugLogo500x197-400x108.png
Noah W
2011-05-03 09:52:00
2022-06-06 07:50:16
How to Avoid Reverse Phone Lookup Scams