Oct24
2 Tools You Need To Boost Facebook Ads Strategy For Cleaning Business 
Let's say you have a cleaning business, and you want to expand your customer base by using Facebook Ads. However, the results are not as expected. You are not getting the clicks and conversions that other businesses are getting. What could be the reason behind this?
The answer is simple: your data quality is not good enough to target your customers well on Facebook! If you want your business to grow at a rapid pace through advertising while keeping it on a budget, then improving data quality should be one of your top priorities. Here's why.
Facebook Ads Insights 
We all know that Facebook helps businesses to promote brands and increase ROIs through Facebook Ads, especially since it has 2.9B users as of July 2022. According to the September 2022 report of Statista, the top 3 age groups that dominate Facebook users in the US are 25-34, followed by 18-24, and the 35-44 age group.
If you'll notice, the top 1 and top 3 age groups are the ones that have the purchasing power or can decide what services or products they would like to get as they are already in the decision-making age working groups. Considering these numbers, you can easily assess that advertising your cleaning business on Facebook is really a good choice.
However, of course, advertising entails a budget to run Facebook Ads. Whether you are a start-up or a tenured cleaning business, of course you only want to spend ads on those audiences that will generate more clients.
That is why it is so important to have a data-driven strategy when doing Facebook Ads. You should have the data for targeting an audience that would be interested in what you have to offer in order to make the most out of your ad spending.
Facebook Ads Strategy For Cleaning Business 
If you've navigated Facebook Ads yourself, you probably know that you can target audiences in specific locations by entering cities or states in the location field. But did you know that there is another way to intelligently target an audience in a much more specific location?
Yes, there is, and that's by building a custom audience wherein you upload an email list on Facebook Ads Manager that contains email addresses of the audience residing or doing business in a specific area.
Instead of targeting everyone — which will only eat up a lot of your ad budget without the assurance of getting quality leads — focus on targeting groups of audience that are actually residing or doing business in the location you are serving.
Whether you are offering residential or commercial cleaning, this strategy will surely work for your cleaning business.
So, you might be asking by now, HOW? Let's go!
Tools You Need To Successfully Target Location-Based Facebook Advertising 
Note: This strategy is easy, but needs some work to achieve the goal of creating an email list of the target audience. It's either you do it yourself or let someone do it for you. Either way, you can guarantee quality leads that you can use to elevate your cleaning business.
Tool #1: USPS Address Lookup and Verification Tool 
This is a smart tool built for businesses. A USPS Address Lookup and Verification Tool will let you generate a massive list of valid addresses in an area of your choice.
You can enter a street name, street type, city, state, and ZIP code. The more specific you get, the more targeted your audience will be.
The tool will give you a list of valid addresses located in the area you entered, which you can download in .csv format.
If you are eyeing residential clients, targeting neighborhoods is a great choice. If commercial is your target market, you may want to target business districts. You can search on Google where the business districts are in the areas you're serving.
Tool #2: Data Append 
The word "append" means "to fill," so it means that the Data Append Tool will provide the missing data that you still do not have on your existing data set. In this case, you only have addresses from the USPS Address Lookup and Verification tool you first used.
This is a data enrichment tool that can process a file for you and instantly provide data such as name, phone number, email address, and address. This makes it easier for you to build out a robust set of contact information that works well across all channels.
So if you only have addresses at first, the appended file now has names, phone numbers, and email addresses of your target audience registered under the address.
Now that you already know the main tools you need to get the email addresses for your target audience successfully, let's jump to the actual process!
Easy Step-by-Step Tutorial on How To Get Emails You Can Use as Custom Audience 
According to the recommendation of Facebook published on Kimberley Rogers' blog, you should have 1,000-5,000 email addresses on your list or at least 100 emails to target a custom audience.
Here's how to generate a massive list of emails using the tools mentioned above!
To target an audience in a specific location by uploading their emails, first find a third-party service that provides USPS Address Lookup & Verification and Data Append tools.
Next, use the USPS Address Lookup and Verification tool to generate addresses. To do that, enter your target location—for instance, a street name, city, state, and ZIP code. Or if you're targeting a wider audience, such as people who live in a certain town or state, enter only the city and state.
Depending on your search, you will receive a downloadable .csv file containing addresses. Download them and open a NEW spreadsheet.
Collate your desired amount of addresses in one spreadsheet by copying and pasting it from the .csv files you downloaded.
It's time to use the second tool! Now that you have a new spreadsheet, use a Data Append Tool to generate additional data sets such as name, phone number, and most importantly for Facebook ads, email addresses.
Once you have retrieved the appended file, extract all the email addresses and transfer them to a new spreadsheet. Create a new file solely for email addresses.
Finally, you can start creating Facebook Ads for your cleaning business. Find the audience section of your Facebook ad, then click "Create Audience" and upload the spreadsheet containing email addresses only.
Why Upload Email List on Facebook Ads as Custom Audience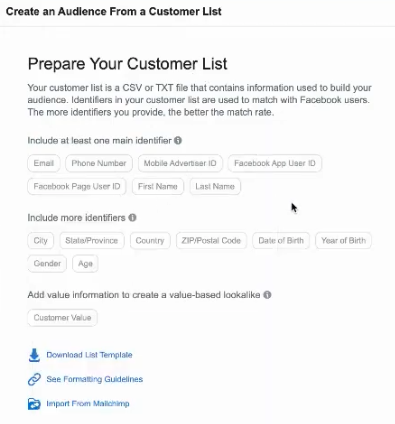 You can't get the results you want from your Facebook advertising unless you're showing your ads to the right people, and that's where Facebook Custom Audiences comes in. Give your ads an audience that's likely to be interested in what you're selling, and watch your sales climb.
Rather than targeting your ads to people through wide demographics, like age or gender, you can target them based on data you've gathered from your website, app, or other forms of lead generation.
Using a Facebook custom audience allows you to do some pretty cool things, such as:
Reach people who have already expressed interest in your business by retargeting them with Facebook ads.
Create ads tailored to specific segments of your audience, like those on your email list.
Upsell products or services to current customers
Creating your custom audience makes your cleaning business ads more direct and targeted. By doing this, your Facebook ads are more likely to get in front of the people that will respond to them and need your service.
Aside from that, there is also a high chance of spending your ad budget wisely. In fact, according to SocialCode, one of the Facebook Ads they ran was 15% cheaper for every like or engagement. Another case study from OpenSky states that they saw a 30% conversion rate increase from targeting a cold audience.
Conclusion
If you're looking for ways to improve Facebook ads for your cleaning business, these two tools should always be in your arsenal. These tools have been in existence for quite some time now, but marketers and businesses are just starting to pay attention to their incredible benefits.
It's always a good idea to look for new ways and strategies to elevate your marketing and advertising efforts. As the world advances and algorithm changes become so prevalent, having a backup strategy to rise above the competition should be a priority.
We all know that what worked before may no longer work now and in the future, and embracing some unconventional ways could work in your favor as long as it's done right.
Hopefully, this blog gave you more insights on how you can use tools to close more deals and secure more clients that will put your cleaning business on a whole new level. Commercial or residential, we can guarantee that this strategy will work better than the traditional location targeting!
Do you want to know whether this fits your business or need more clarification about the benefits of USPS Address Lookup and Data Append tools? Feel free to connect with us on our website. Our friendly customer service team is always happy to assist and answer your questions.
We've helped multiple cleaning businesses using this strategy, and you could be the next!
https://www.searchbug.com/info/wp-content/uploads/2022/10/Faceook-Ads-Strategy-for-Cleaning-Business.png
675
1200
Armie
https://www.searchbug.com/info/wp-content/uploads/2019/12/SearchbugLogo500x197-400x108.png
Armie
2022-10-24 08:40:38
2022-10-24 08:40:41
2 Tools You Need To Boost Facebook Ads Strategy For Cleaning Business